This Automotive Habit Of Mine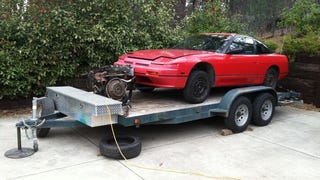 This Automotive Habit Of Mine
My favorite car is my next car. What will today bring to my automotive habit? There could be financial ruin, excellent deals, skinned knuckles, and epic mechanical resurrections. We can't save them all, but the cars that land in our driveway deserve a good ol' college try.
Nearly fifteen years laying on the red dirt ground, covered in pine needles and oak leaves, I discovered them again; parts off my first Camaro, a 1971. An original driver's side fender and a spoiler-less trunk lid. I can't believe these sold quickly, and for a decent amount of money.
I will argue that any muscle car is cheaper to buy than build at the moment. Everyone has migrated to vintage or near classic European cars, mainly BMW and Porsche. Remember that E30 M3 you loved ten years ago? It is in the stratosphere. The Porsche 911 964 turbo? If it is for sale, it's worth more than your house, and otherwise they've become a dead man's car.
So when I found these being reclaimed by mother earth I was a bit skeptical that anyone would pay for them. Who is building muscle cars right now?! Do they enjoy burning money? Just go buy one!
Now, nearly everything for a Camaro is reproduced. So if you really want to build one, it isn't that difficult to source the parts. You can just about build a completely new classic Camaro from a parts catalog - That's insane in the membrane.
Think about that for a minute. Nearly EVERYTHING for a classic Camaro is reproduced. Neat, clean, and with modern production techniques. How can they be overlooked? How could someone want these dirty parts with layer upon layer of paint instead of paint ready, fresh panels?
An assumption the older panels are built better.
The brand spanking new panels can require much fitting, and trimming. Not always... but the old panels were already on a Camaro and fit from the factory by a man named Bubba, wearing overalls, and nursing a hangover. I watched as my body shop tech circled flaws and fitted the new hood to my car numerous times to get it right. This was on a NEW panel. I thought it looked great but when they're stamping these things out at a fast rate to keep corporate profit up... mistakes happen. Even when you look up how much a new panel is... you can see the negative reviews!
Many of the body shop headaches are already taken care when the panels were new back in the day. A pristine NOS body panel is a gold mine today. Mine were beat up from years of outdoor storage, and years on the road. So instead of getting gold for them, I got a metal maybe similar to copper? Or iron... or pig metal...
Depending on the build it will increase the value.
People want OEM parts. They increase the value of a vehicle if all panels are original (even more if the paint is original). People want originality. Fact. I however would argue that reproduction panels on a hot rod or non-original car won't affect the price as much as it would with 'numbers matching' and 'factory restored' type vehicles.
My current Camaro is lucky enough to have retained its original parts. Could it have been a good idea to keep these panels? Sure but I don't want a lot of clutter around. Keeping large parts around 'just in case' is a concept I fight in my mind all the time, typically I can't afford to waste the space.
How much did I get?
One US bill with Mr. Benjamin Franklin on it. I couldn't believe it. $100?! And they sold quick! I had these listed for about 4 days. I'm assuming I gave the guy a great deal. Better the $100 in my pocket than an empty pocket. Being these were stored in the dirt at my dad's house, he was amazed. He nearly threw them away.
The same panels, new, cost just over $300. Or you can always find panels like mine and know they will fit, albeit with some body shop magic.
I'd much rather go with original than new if I can... I've seen me do it before.