This Automotive Habit Of Mine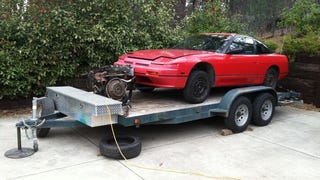 This Automotive Habit Of Mine
My favorite car is my next car. What will today bring to my automotive habit? There could be financial ruin, excellent deals, skinned knuckles, and epic mechanical resurrections. We can't save them all, but the cars that land in our driveway deserve a good ol' college try.
Have you ever done something so absent minded when working on a car that you thank your lucky stars 'it wasn't worse'? I had one of those events this weekend while working on my 2006 Infiniti G35 6mt sedan.
I detailed my acquisition of my Infiniti yesterday and the annoying amount of work and money it took to get back on the road. I however, love this style of sports and luxury, so I decided to throw more money at it!
What I didn't mention yesterday was that I had been driving it with a bad throw out bearing and warped rotors for nearly a year. Mind you, I don't drive much, so I had added only about 2000 miles to the odometer.

Why drive so long with bad parts? Partly because my schedule is too busy, and when I do have time... I'm lazy. I enjoy beer, crappy foods, sleeping in, and floating in my pool. These things don't produce productivity.
I finally found the time and enlisted the assistance of my ever faithful and patient friend and mechanic Rob (he has a VQ S13 featured on Adam LZ's YouTube Channel).
We had a busy day ahead of us. I ordered an obnoxious amount of parts:
Flywheel 14lbs - Z1 Motorsports $374
G35 (Non Brembo) Brake Upgrade Package $502
- Rotor Type: Drilled & Slotted
- Pad Type: StopTech
- Fluid Type: Motul 5.1 (2)
Total for Parts (after getting a few oil filters): $1186
If you look closely at this picture, you'll see several panels of wood. We didn't have a concrete pad to work on. I'd recommend concrete as rolling around on wood produces splinters in your back and shoulders. I don't like splinters in my hand, let alone in my shoulders.
At approximately 0900 hours, we began work. We took an hour for lunch and continued working. I focused on the brakes. Rob focused on the flywheel and throw out bearing. At 1700 hours, we finished and took a test drive.
Now for the tow truck adventure and near catastrophe...
I had to drive 2-1/2 hours there and back to get this work competed. On the way home I got with in 30 minutes of home when a slight problem occurred.
I changed lanes and heard a metallic 'plunk, plunk, plunk' from under the car going front to rear. I thought to myself, 'Did I run over something or did something fall off the car?' About 1/8 of a mile up the road was a small bend requiring the brakes. I felt the brakes change. It was a slight shudder or vibration under foot with a minor pull to the right. I was traveling at approximately 70 mph. I then felt another 'plunk' but it was more of a whipping metallic sound.
Aww crap! We're shedding parts! 
I quickly applied the brakes again and pulled onto the dirt shoulder. As I drove onto the shoulder at 15-20 mph, the right front wheel LOCKED UP!
A quick assessment revealed the right front upper caliper bracket to knuckle bolt had FALLEN OUT! As I hit the brakes the forward momentum caused the caliper to flop forward and collide with the inside of the wheel.
I was the sole person responsible for the brake job. I must have forgotten? I am a humongous idiot...
A tow truck was summoned. A rather rotund and unusual man appeared with a yellow flat bed and took me home. There is nothing more embarrassing and disheartening as a 'car guy' as taking a ride home on a tow truck because of your inability to properly fix something.
The first 'plunk' I determined to be the bolt. The second with the whipping sound was found to be the sticky weights inside the wheel. Once the caliper flopped forward it took out the weights.
The following day I sourced a bolt and put the caliper back on. The damage was found only to be cosmetic inside the wheel barrel. I am a very lucky dude.
BONUS:
Found an oil leak. Green plug looks like its a cam sensor? O-ring inside I'm guessing?
Opinion?