This Automotive Habit Of Mine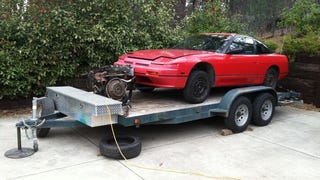 This Automotive Habit Of Mine
My favorite car is my next car. What will today bring to my automotive habit? There could be financial ruin, excellent deals, skinned knuckles, and epic mechanical resurrections. We can't save them all, but the cars that land in our driveway deserve a good ol' college try.
I might have done a thing... I should find out today. I may have bought the cheapest and dirtiest E46 M3 in the country. It runs and drives! It is so cheap, but good-god is it dirty! I will need a Tyvek suit, nitrite gloves, n95 mask, and goggles to tackle this one. Tavarish eat your heart out!
This is a 2004 BMW M3 with around 87-ish thousand miles on it. It is a convertible with the SMG transmission. The color is carbon black with a black leather interior. Ordinarily, I would not be buying this car. The price is right and it runs and drives?!!!

The E46 M3 in this configuration is the cheapest version you can get. The convertible isn't as desirable as the hardtop. The SMG is far less desirable than the six-speed manual. Does this make it a bad car? No, the purists have jumped on the band wagon and caused prices to spike recently. How far? Well... one just sold for $90,000 in the best configuration possible with lots of rare parts!
When this popped up for sale, I couldn't pass up looking at it. When I heard how much they wanted for it at first, it was a hard pass. After several months no one locally wanted it. It needs a little work? A little polishing? Maybe a complete interior, delousing, an exorcism, and at worst a Viking funeral?!

The exterior is relatively unmolested. It will need bumpers and side molding from the short time I was with it. The problem is not outside, or under the hood. The problem is inside... OMFG-LMAO-WTF-GTFO!!!!!!!!
What have I gotten myself into? How does a car get that bad? The story is that three whey-ward souls who were addicted to stimulants lived out of this M3 for a short time. They used and abused this bad mamma-jamma to the point you see here. The car was not started for several months and it was left outside with the windows down in the rain!
Apparently the key was sourced, the battery charged, and it runs and drives. You just need to burn all your clothes after sitting inside and be aware that you now have the black lung.

I'll be needing some support on this one. Big time. At minimum it will be parted out for the engine and other parts that can be saved. At best it will be cleaned up and put back on the road - most likely sold.
I offered $1,000 for it. I find out today if a tow truck will be arriving to download this hot chili dog infused turd in my driveway.