This Automotive Habit Of Mine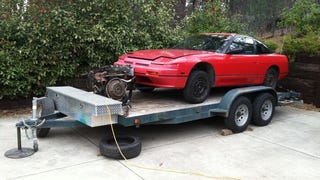 This Automotive Habit Of Mine
My favorite car is my next car. What will today bring to my automotive habit? There could be financial ruin, excellent deals, skinned knuckles, and epic mechanical resurrections. We can't save them all, but the cars that land in our driveway deserve a good ol' college try.
Are you looking for a late-model Toyota 4Runner? Getting frustrated by the process of finding the right one? Join the club. I finally found mine but it sure was a headache. I previously wrote asking readers if they preferred Lower Miles or Newer Year when searching for their next vehicle. I came to a conclusion with my newest purchase!
Deciding on the Budget
I had ear-marked ten grand when I decided to find a family 4wd vehicle. I quickly came to the conclusion that I wanted to stick with a Toyota as we've been very happy with our 2017 Sienna. Once I starting looking at 4Runners... I realized that 10 large wasn't going to buy much. I had found a clean, lifted 4th generation with approximately 120-thousand miles that was listed for $12,000. A few weeks later it was relisted at $10,800. I can't find it online any longer and I assume it has been sold.
Why didn't I buy the lifted 4th gen? It wasn't in very good condition. The paint was faded. This was difficult to see in pictures as white tends to be the most deceiving color to gauge condition. There was no information listed about the make or type of lift (body or suspension). To top it all off, the wheels and tires were cheap. It had painted black, old American Racing wheels. The tires were some kind of knock off, from an unpronounceable foreign land, that bought some other terrible tire companies former tread design.
Once I was properly frustrated I upped my budget by 50% to $15,000 and began searching once again. I quickly found another 4th gen with LOW miles (~82,500). It was gorgeous. Mint condition. Dark grey with black seats. Sadly this owner still had a loan on it. His credit union was located in SoCal. I told him to figure out how to get the title (beg, borrow, or steal) and call me back. I never heard back...

Understanding You'll Pay an Arm and a Leg
I cannot stress enough that these things are OVER PRICED. Maybe its the fact rebels frequently invade countries on the backs of Toyota's or that Top Gear famously tried to kill an old Hilux with no success. Either way, get it out of your head that you'll find a super cheap deal. It won't happen. Never. Not ever. Ever. Ever. Ever!
I think I found a deal but its relative to the market. I still think I paid far too much for what I got (five seater, 4wd, body on frame SUV). But I'm okay with it. Really! I am. I quite like what I found. Maybe that's the secret after all?

I mean take a look at this example I just found: 2010 4Runner Trail
Search, Search Again, and Keep Searching
I searched every single day for approximately one month. That's right children. Every. Single. Day. I am exhausted. I really didn't learn that much after everything was said and done. Is one particular year of 4Runner better than another? Not really. They all seem to be very highly regarded as dependable steeds.
I mean sure, the 4 speed found in pre-2006 V6 models isn't as good as the later 5 speed. The 4th gen's V8 is a gas hog with a timing belt and they cost more to purchase. But most of the things I learned were about the 4th gen... so how come I bought a 5th gen?! Did I even do any research about the 5th gen? Not really. There isn't much of a difference between years other than some exterior and interior differences. The Trail model has the selectable traction control but I found them very hard to find. The limited has leather and a better sound system. See, I just summarized the entire used 4Runner market. Simple.
Pounce on the Deal, Quickly!
I have always been happy to take upon myself to hunt for another vehicle. I'd like to think I'm pretty good at finding good, clean deals. But this time my wife beat me to the goal. She used Facebook?! Who buys cars on Facebook? I've always been slumming Craigslist... things have changed.
My wife found our 2011 4Runner on Facebook. It is of course 4wd but it has 159,000 miles!!! The owner was asking $15,500 for it. It was described as being a commuter and owned by the original owner.
We expressed interest but were quickly told to hold off as the owner had a mystery terminal illness in the family. It felt like a bait and switch. Fortunately for us it wasn't. The owner called back the following week and decided to sell.
I mean after pulling the CarFax, I didn't have any worries. One owner since new, a ton of miles, but plenty of services. No reported collisions! I think I found a gem! Everything the owner said lined up with what could be proved on paper.
After a quick test drive, and a firm price of $15,500, I was the new owner of this one owner, commuter 4Runner. Huzzah!!!
Once You've Got It
It's time to go 'wheelin! Eh, probably not, the Michelin H/T tires are in excellent condition, but they're more suited to black top road trips. I'll be buying some wheels and tires before winter but I don't think it is in the budget to spend $1,500 anytime soon. I blew the budget just buying this thing...
The first purchase was floor mats. The carpet ones simply will not do. Carpet gets far too dirty and worn out in my mid-Sierra location. We have dirt, snow, and puddles. These were perfect for the previously owner as he was a pavement pounder commuter in the Central Valley. Water was about the only thing he had to worry about.
The second purchase hasn't happened yet. I'm thinking about Method wheels in black and some BFG All-Terrain KO2's, but we're a little ways out.
I am considering the third purchase to be an Old Man Emu suspension system. A small lift to accommodate tires just a tad bigger... yes it shall have some of that.
In lieu of making another large purchase right now, I focused my attention to the little things that were bothering me. This 4Runner was CLEAN so I didn't even have to detail it. I did take a tooth-brush sized brush to the interior as between the buttons on the center console there was a bit of grime.
On the exterior the 3M style door guards were starting to peel. Just the 2 by 10 inch strip above each door handle. All the rest (inside the handle area, and on the door edge) were fine.
Conclusions
I really like my new-to-me 2011 Toyota 4Runner. It is one of the few remaining body on frame SUVs that aren't Chevy Tahoe sized. It has some quirks (PARTY MODE?!) but it is mostly what you'd expect from any newer vehicle. I did find that the forward rake on the windshield is very Jeep-ish, it makes you feel like you're driving a tractor, and I love tractors.
Try to hold it together and don't become too frustrated if you're looking for a late-model 4Runner. There are decent examples out there. Not every example will be 200k miles and driven into a brick wall. This just happens to be the market that exemplifies the saying, "You get what you pay for".
A cheap 4Runner will be cheap for a reason. I had to spend a lot of money on a newer, high mile 4Runner as anything newer or lower miles was MORE money. The next closest deal I've found is nearly 20-grand.
Had I not found my 4Runner I would have waited a year and bought a new one. I mean with the prices people are asking it could be worth-while. I could buy a new 4Runner for 40-grand, drive it over every pot hole in my county, squeeze ten years of beer farts into the seats, and still get 20 grand for it as with my driving regimen, it would have fifty thousand miles...