This Automotive Habit Of Mine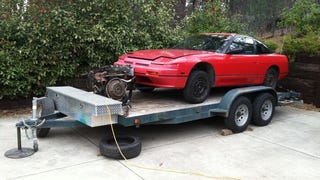 This Automotive Habit Of Mine
My favorite car is my next car. What will today bring to my automotive habit? There could be financial ruin, excellent deals, skinned knuckles, and epic mechanical resurrections. We can't save them all, but the cars that land in our driveway deserve a good ol' college try.
I have a problem. Not only with buying and selling cars, as I get bored frequently (two dozen and counting...) But I have a problem with the wonderful, Jeep Cherokee XJ. I love them. I've already had TWO. I am currently on the search for a 3rd. Come with me on this journey to find another box of family off-road fun.
The Objective.
I want to find a very clean and unmolested example with low-ish miles on the odometer for as cheap as possible. I want to be able to drive it home and either have it smogged (California) or be so positive it will smog that I won't be worried about it.
I am located in Northern California outside of Sacramento. I need to keep myself from traveling too far. I will be busy for the next week, so doing searches and contacting owners is ideal for now. I can do a lot of arm chair organizing over the next seven days.
Finding the ideal XJ is proving to be difficult now-a-days. These things are appreciating. My first Jeep (above) was a 1999 and that seems to be the sweet spot for the XJ.
Why 1999?
In 1997 the XJ went through an overhaul with exterior and interior changes. I prefer all these 'updates'. Dare I say that I think it looks the best? Yes. It looks much better than the 1984-1996 models. Also 1999 is the last year for the HIGH pinion Dana 30 front axle.
In the year 2000 many vehicles also had minor changes due to emissions. The XJ fell victim to this with some wiring changes, emissions changes, and even wiring to the AW4 transmission being changed. Basically it has coil pack, the cylinder head is more prone to cracking, and you get a LOW pinion Dana 30.
I prefer the Limited models. Not that I really enjoy leather that much but the Limited models have door pockets (!!!?), some faux wood inside, and basket weave wheels. Mainly I want them for the door pockets and wheels. All other XJs of the vintage don't have door pockets... You'd be amazed what life is like without them.
My Experience
The first XJ I owned was a basket case. It was rough. We bought it for $2300 and sold it two years and twenty thousand miles later for $2250... Hey, that didn't go so bad.
The Second? Much nicer!!!
My second gold tan XJ was a 1999 model, purchased a little rough for $4700 but it already had a lift and good tires. It was relatively clean and unmolested. It had approximately 120,000 on the odometer. It was a great candidate for a mid-life restoration cleanup.
Unfortunately it had a bad exhaust leak with one shotty repair already attempted. This was VERY annoying. It had to be fixed.

Removing and disposing of THE ENTIRE exhaust proved to be somewhat easy just time consuming. Some of the bolts towards the rear of the engine that hold in the exhaust/intake are a bitch.
I ended up doing a lot more work to this XJ than I wanted. I swapped the Dana 35 for a Chrysler 8.25 with a Detroit TrueTrac with ZJ disc brakes. I did considerable work to the lift as every Johnny Heim Joint was worn out.
The worst part of the suspension? The track bar. I could NOT get the heim joint off. I took it to a 4wd shop that ended up having to heat it up AND use a 4 foot breaker bar. Aye-yai-yai... Indeed.
I sold this second XJ for $7100 after having approximately $7400 into it. If I still had it I think I could have gotten a little bit of a profit. Not a big profit but something. Why did I sell it? I took for granted having a 4wd vehicle and mentally said that we simply weren't USING it.
Conclusions.
I miss having an XJ. These things are awesome. Quirky, unusual (for today), and overall tanks off road. We currently have four vehicles, 06' G35, 17' Sienna, '70 Camaro, and 96' Ram 2500 Cummins.
I want another XJ 4x4 to fit the family as none of my current vehicles can do two things at the same time: (1) Fit the family or (2) Go over a ditch more than 4" deep. The G and Sienna fit the family. The Ram is a standard cab that fits three when there are four of us. And the Camaro is good for nothing except getting me into trouble (financially and physically).
Considering I have some knowledge working on an XJ and it meets both above criterias, I have decided to find another.
What say you Oppos? Help me find another XJ? I am not opposed to eBay or a sight unseen purchase, it just has to be tasty enough to warrant the risk. CL preferred local to Northern California.