This Automotive Habit Of Mine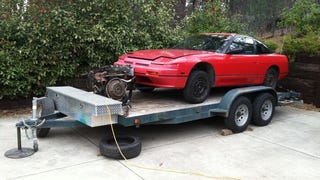 This Automotive Habit Of Mine
My favorite car is my next car. What will today bring to my automotive habit? There could be financial ruin, excellent deals, skinned knuckles, and epic mechanical resurrections. We can't save them all, but the cars that land in our driveway deserve a good ol' college try.
Several years ago I scattered chicken bones on the ground at an abandoned race track. I sacrificed a goat, and built a fire for a forge. Into the forge I melted metal impeller water pumps, a VANOS solenoid, and three roundels. Into the bubbling cauldron I saw it - the E46 M3 will be the next darling collector car! Maybe it's time to buy?! I've got a lead on one, but I'm starting to have cold feet.

It didn't take any sacrificial animals, melted spare parts, questionable hallucinogenic substances, or even Miss Clio to figure this one out. The E46 M3 has always been a darling and it was destined to be a future classic. Maybe it's the beauty of the design, the simplicity, the power plant, or the fact that anything newer is much larger and complicated...

I always knew it would happen. The most desirable cars will be anything with a hardtop and a manual transmission - just like the one that sold for $90,000 on Bring-A-Trailer. The bottom rung of the desirability ladder being the convertible with the SMG transmission. Guess what I found for $1000 with 80-something thousand miles on it... not a hardtop and not a manual transmission!

I'm conflicted. The bottom rung of the E46 is currently cheap. A car 1000 times cleaner than the one I have a lead on can be had as cheap as ~$6000 ('vert & SMG). With values about to take off like a runaway train I can only wonder - is it worth it to buy any E46 M3? Are the hardtop cars the only one to buy? Could it be worth more to part out? Hold and wait while it rots in my backyard for values to climb on them all?

I cannot decide. I just bought an E60 M5... do I really need another BMW? I have the room. What do you think?

The car is a 2001, red, convertible, SMG, 80k-ish miles, and rough... $1000
(Sorry I don't have any pictures yet)