This Automotive Habit Of Mine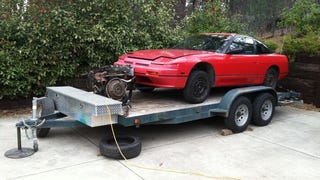 This Automotive Habit Of Mine
My favorite car is my next car. What will today bring to my automotive habit? There could be financial ruin, excellent deals, skinned knuckles, and epic mechanical resurrections. We can't save them all, but the cars that land in our driveway deserve a good ol' college try.
I decided to start writing today. This will be the start of a long journey. It wasn't the first time I thought about jumping into the writing realm, but today seemed like a good day. It is not the first time I have written, just not here, or recently. I think I'll start by telling a story. A long story but very condensed...
Nine years ago, I went on my first date with my now wife. Everything since then has changed. I could go on about many, many, topics but considering my wavelength for all things automotive, I'll start with that passion.
My wife has lucky been mostly supportive of my automotive habit. Albeit, she prefers a monetary gain, rather than a loss. I have mostly gained or broke even on nearly every vehicle I have owned... since being with her. The following is the chronological list since 2003:

1992 Ford Explorer 4x4 AT
1992 300zx 2+2 MT
1971 Chevrolet Camaro 350 AT

2005 Nissan Titan 4x4 SE Crew Cab AT

1990 Nissan 300zx 2+0 MT

> Annnnnd since wife...
2005.5 Audi A4 Quattro Sedan MT

1999 Jeep Cherokee 4x4 AT

2006 Nissan Armada SE AT

1974 Chevrolet C20 Standard Cab 2wd MT

1990 Acura Legend AT

2007 Honda Civic LX AT

1989 Nissan 240sx Hatchback MT

2003 Subaru WRX WRB MT

2003 BMW 325i Wagon Sport Touring AT

1999 Jeep Cherokee 4x4 AT Lifted Rubicon 3.5"

1999 Dodge Ram 2500 Cummins 4x4 AT Ext Cab

1999 Subaru Legacy Outback MT

2006 Ford F250 Diesel 4x4 AT

2014 Mazda CX-5 Touring AT

>Currently below...
2006 Infiniti G35 Sedan 6MT

1970 Chevrolet Camaro Bill Mitchell Aluminum Lite MT

1996 Dodge Ram 2500 Cummins 4x4 AT Std. Cab

Now that is a lot of vehicles for one dude and the vast majority have been in the last nine years. I have learned one big lesson since beginning on my escapades with a significant other: keep them in mind. There is nothing worse than driving (or dragging) home a project that does not meet space, needs, desires, or hits an emotional point. Some vehicles, such as a black Jeep, have been positive, because that was a childhood vehicle for my wife. Others such as an Audi A4, reminder her of a loathsome co-worker. In the case of the Audi, it wasn't owned for long because it was a sore point.
If I keep my wife and lifestyle in mind and don't lose the farm on a vehicle, I'm pretty sure I can keep my habit and marriage together. The vast majority of the vehicles I have owned have been since getting together with her. She is NOT a 'car' person and doesn't have much interest in many aspects of the hunt, fix, or drive. She does not know how to drive a manual transmission. Many of the vehicles I've owned are ol' reliable stick shift. She does however support me in my hobby. The list can speak for itself.
The current project has been a bear... it is a 1970 Chevrolet Camaro. I'll write more in the near future but here are a couple pictures of it.
I kept my wife and lifestyle in mind. She has been supportive and approved of the purchase of my Camaro. And it was $18,000 in non-running condition... If that isn't love, I don't know what is... Now time to write more!