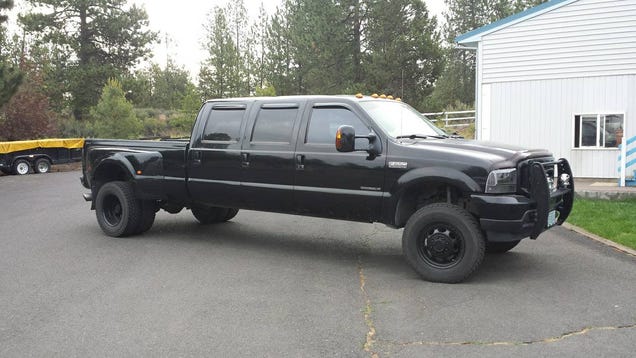 Ridiculous Diesels
The latest installment of the most RIDICULOUS diesel powered vehicles for sale online!
Maybe you NEED a diesel. You've got a lot to tow and plenty of highway to travel. Do you really NEED six-doors though? Could you use a truck that seats NINE people? I don't. I don't even need a dually. But if you have a six door, nine seat need. Look no further.
Last time I featured a Ford F-350 with a chopped down wheel base. After staring at that tiny Tonka truck, I decided to lift my horizons and I found this monster (monstrosity?). Of course being something customized... it is salvage. How else do you build something like this? Tear up a clean truck?!
For the low price of $34,500 it could be a deal. That's if you wanted a six door and were already planning on having someone chop/extend your truck. I have no idea what a surgery as extensive as this could cost but I am betting it is many, many simoleons. At least its a 7.3L and the last year of availability. We all know that's a great engine.
See it here:
https://sacramento.craigslist.org/cto/d/ford-fltr-6-door-truck/6580523180.html