Ridiculous Diesels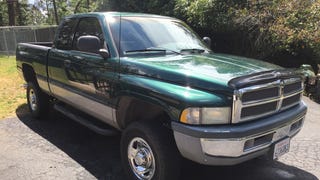 Ridiculous Diesels
The latest installment of the most RIDICULOUS diesel powered vehicles for sale online! Why are they so overpriced? What do you get for the money? Is it worth it? Come join the discussion!
It's ridiculous. It's long. And it's blue. It will also make you blue in the face as you hold your breath for the price.
1997 Ford F-350 4x4 108,000 miles...
$26,500!!!!!!!!!!!!!!!!!!!!!
OMGLMAOWTFNFWBBQ!!!!!!
https://goldcountry.craigslist.org/cto/d/1997-ford-f350-crew-4x4/6564857767.html
Maybe buying a new truck isn't so crazy after all...?
Nightly night Opponauts.