Ridiculous Diesels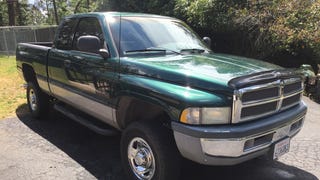 Ridiculous Diesels
The latest installment of the most RIDICULOUS diesel powered vehicles for sale online! Why are they so overpriced? What do you get for the money? Is it worth it? Come join the discussion!
If there is one decade I love it's the 80s. The neon colors, epic rock ballads, and golden beach culture. If you have the coin you can purchase this diesel 'Burb, blast some Twisted Sister, and bomb over the ocean dunes you've always dreamed about.
This is a 1986 Chevrolet Suburban 6.2L diesel with four-wheel drive. This particular 'Burbin has 133,000 miles ticked over on the odometer so it should be in pretty good shape.
What is particularly nice about this one is it no ordinary non-turbo-slow-as-snot 6.2L diesel. This one has an aftermarket Banks turbo which to my understanding helps... a lot!
On the inside you get a lot of stock parts and OEM goodness. I've always enjoyed the GM products of their era, even though the interior doesn't hold up - or so my family's 91' Suburban didn't.
We had the same seat covers (but in blue) and had to gaze over the cracked dash for some 300k miles. To my untrained eye this one looks pretty good except for any potential tears under the seat covers.
The 'Burb of our current era is typically around 2 feet longer than any Tahoe. Back in the 80s you could get this with THREE full bench seats. Nine passengers?! Yes and in comfort! If you wanted a similar platform but smaller - the Blazer.
I personally really like this old 80s time machine of a Suburban. With the way older Chevy trucks hold their value and the rise in square body trucks it might only be a tiny bit over priced at... $19,000
What day you?! Buy the beach going shaggin 'Burb wagon and drive off into the sunset?! Or bury the money in the backyard and wait for a rainy day?