Ridiculous Diesels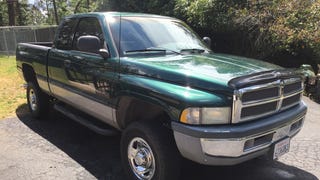 Ridiculous Diesels
The latest installment of the most RIDICULOUS diesel powered vehicles for sale online! Why are they so overpriced? What do you get for the money? Is it worth it? Come join the discussion!
I am always harping about Ridiculous Diesel prices. At the car show last week there was a seemingly ordinary truck buried among the classic steel. It was later moved outside the show and was for sale! But for how much?!
This was a 1983 Ford F250 4x4 that was grandpa-style minty fresh. A real gem among this body style for this generation of Ford Trucks. The for sale ad details all the new parts and unique options.
I personally love the front bumper with winch. It looks like a piece of fire department equipment. The newer trucks with bumpers like this just look goofy but this older truck pulls it off nicely.
With 'very low' 77,000 miles - $10,500
Still too rich for my blood. I am not a fan of the color... if it had been all black or one solid color... maybe... just maybe it would be a buy with some haggling...
Sorry I didn't get more pictures... my bad.