Ridiculous Diesels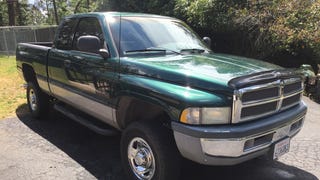 Ridiculous Diesels
The latest installment of the most RIDICULOUS diesel powered vehicles for sale online! Why are they so overpriced? What do you get for the money? Is it worth it? Come join the discussion!
This 'seller' isn't the hero I need. They are the hero I had wanted. This gentlemen is doing us all a favor. He is trolling Craigslist with an excellent forsale ad. Let's just hope the bulletproofing really did include the cardinal grammeters to be symmetrical. Come take a peek shall we?!
We are a species that at times more closely resembles lemmings than the erudite beings we should be. Someone lists a Powerstoke a tad high and everyone follows suit. Next think you know the world is awash with moronic priced Ford diesels.
This 'seller' has decided to poke a bit of fun at the ridiculousness:
ONE OF A KIND?! Nope. Not. At. All. A full bulletproof? I'm glad he is specifying as I typically get upset as most 'full' jobs are actually partial or half bulletproof'eses. Nothing too alarming yet...
There it is! The good stuff. People are into lift kits but doll hairs?! I wonder how many doll hairs equals $.01? Many pounds of the stuff I suppose. The seller is being generous and willing to cut his losses and 'take' 50k for this beautiful blue beast. He even builds some immediacy into the sale as apparently you can't find another one like this except if you drive another block over!
Lastly the ad ends with this drunken typed gem:
The seller is right about one thing. There are trucks listed for 30k with no work done to them. I even like that he tries to take a jab at the 7.3L Ford as we all know those prices are radioactive. I do enjoy a nice 7.3L but seeing the prices, I can agree that a Toyota is a better option. I mean I ended up buying a 'Yota even with their prices approaching stupid levels.
I truely hope the new owner of this Powerstroke can enjoy the 750 ponys to the full extent... and the V-Tec! This was a nice change of pace from all the serious ads that I slum through to find a high priced oil burner.
Apparently I'm not the only one crying foul over used diesel prices. This 'seller' just wants to stir the pot, and I commend them for their moxey!
https://sacramento.craigslist.org/cto/d/f250-super-duty-60-diesel/6694164826.html