Ridiculous Diesels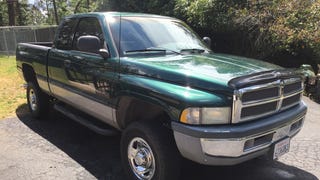 Ridiculous Diesels
The latest installment of the most RIDICULOUS diesel powered vehicles for sale online! Why are they so overpriced? What do you get for the money? Is it worth it? Come join the discussion!
The home brew small truck diesel swap is one of my favorites. In my recent Craigslist slumming for potential features, I ran into this 1993 Toyota Truck with a Mercedes OM617 diesel. I'm in love with this one! Come inside and see if I'll need to sign a prenuptial for this Ridiculous match made in a mud bog!

The Toyota truck is the unkillable, killing machine, made in the Far East, and driven by literally everyone. It is the ubiquitous work horse for most of the developed and developing world. I own a derivative of one. I love mine. If you aren't in love with them already - you'll love this!

This is a 1993 Toyota... truck. Back in the day we got the "Truck". Not a Tacoma. Not a Hilux like the rest of the world. It was just Truck. I remember as a kid riding in my uncle's (same truck but light blue) and thinking how odd that it didn't have a name like every other vehicle.

It doesn't need a name. It is a horse with no name. I'm convinced to this day that some Japanese businessman came to the US (probably Arizona) heard the song and said, "We don't need a name!" He went back to Toyota with his newly found musical wisdom, and the rest is history (that is until one of them traveled to the state of Washington).

I need to get out more. I hadn't ever heard of the 5-cylinder Mercedes OM617 diesel swap into Toyota trucks. I had heard of many other epic swaps, namely the Samurai/VW diesel, and 4BT Cummins/everything! I would love to own a lifted Samurai with a VW diesel someday but now that I've seen this... I'm second guessing my future decisions.

The choice for a Mercedes OM617 diesel seems a bit odd at first glance. You'd think it was a reliable truck stuffed with a hot mess of a luxury engine. This is a fallacy. The OM617 is unkillable. This is a slow, turbo, grandfather clock of an engine. It is perfect for its torque and fuel consumption to go where the road ends. It is a perfect swap for a Toyota - especially for any with the 3.0L V-6...

The owner was nice enough to detail many of the Pros vs Cons and the modifications. He most importantly points out the obvious modification on the front end; the straight axle swap. Only the 1985 Toyota truck and 4Runner were available straight front and EFI. From 1985-on all Toyota's have been independent front suspension (except the Land Cruiser). There was a Toyota truck diesel available briefly but its more of a unicorn now-a-days.
So why not build your own unicorn Toyota! Take a vernerable diesel engine and stuff it under the hood and go find the great outdoors! With all the modifications, needs/cons, and high miles 285,000, I still think this is a nice price at $7,000.

If I had the extra money I'd be running over to this guys house with a fist full of dollar bills! Sadly this one isn't smog legal in California... an engine older than the chassis is a no-go! I'd have to pass but only because of my special-location issues. Damn you hippies and your blue sky loving, tree hugging, and acid rain fearing!
https://sfbay.craigslist.org/sby/cto/d/solid-axle-turbo-diesel-toyota/6729394013.html