Ridiculous Diesels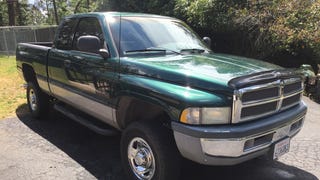 Ridiculous Diesels
The latest installment of the most RIDICULOUS diesel powered vehicles for sale online! Why are they so overpriced? What do you get for the money? Is it worth it? Come join the discussion!
I am weak in the knees. I feel faint. Sweat is dripping down my face. My loins are feeling goofy. Those clean lines, uncluttered by years of careful ownership, the oh-so OEM stock of it all. I can't control myself I NEED this truck... that is until I saw the price... Now I'm angry.
I saw this ad and didn't look at the price. The truck is perfect. Early common-rail Cummins. True four doors. None of that pocket door non-sense. None of that EPA non-sense either. It is one color, not a stupid two-tone common in era. This is as modern as any old tractor got when combined in pickup form.
It has clearance lights! These are a requirement for any diesel fan, not only because they can be useful, but because it makes it look like a big rig. Anything that factory that makes a truck look like a big rig is cool, because I am 9 years old going on mid-30 somethings.
The rear is just as good. Look at that boo-tay! Everything is white. Not a spot of chrome. Normally I like chrome but this truck has that fleet-subtle look to it. I'm not complaining, I like the gobs of paint dripping off this one, it isn't easy to find.
Just look at this: CLEAN carpet. Even behind the load floor! You're telling me I could buy a used truck over ten years old, and not have to remove the seats to get all the french fries, tums ant-acids, hotel ball point pens, and Chiclets from the crevasses of doom?! God I am tired of removing seats to vacuum out decade(s) of gross. I could get used to trucks like this. If only I was hood rich...
White gauges. Manditory on anything from 2001-2006. Period. Remember all the cars you had and tried to install them to look cool? These are factory. That's right! 2002-type-of-cool is back!
How much does all this early common-rail Cummins going to cost you? 20k? 25k? 30k? ERRRRRRRRRR...
$33,995 with 54k miles. Ouch...
Is it bad that I am beginning to feel like it might be a good deal after all? Am I going crazy too? Help me... I think I'm getting the sickness.
https://sacramento.craigslist.org/cto/d/2004-dodge-ram-pickup-3500/6621562410.html