Ridiculous Diesels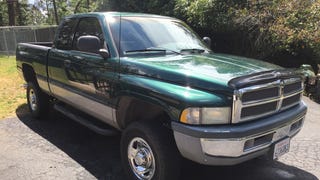 Ridiculous Diesels
The latest installment of the most RIDICULOUS diesel powered vehicles for sale online! Why are they so overpriced? What do you get for the money? Is it worth it? Come join the discussion!
Is it possible that I've found the most overpriced Dodge Cummins ever? If I have, I've reached the end of the internet. Time to close my laptop, drive it to the great blue Pacific, row to the middle, and throw it into the deep.
They say the ocean has no memory. I don't think grandpa did either when he told the family the price to sell his beloved diesel. This is no mere diesel, but it also doesn't deserve a price as ludicrously sky high. Maybe we can figure out (we won't) why this truck is priced as much as new.
This is a 2006 Dodge Ram 2500. It is four-wheel drive, and it has the very desirable six speed manual. Why the manual? If you've learned anything about Dodge it's that their reputation for a stout transmission is shit. There isn't any other way to say it. I will defend Dodge and Cummins, but the transmissions have always been the worst of the big three. Some say the Aisin isn't much better... I need more time to digest that topic.
This being one of the last 5.9l Cummins trucks it is a desirable rig. For the price it has got to have low miles. This is after all "grandpas truck". All elderly people rarely drive, and when they do it's to the grocery store, and pharmacy, and only on Sunday's. They never grind gears, involve themselves in slow speed collisions, or forego needed maintenance for lack of memory.
The elderly always choose the right color scheme. Gold, burgundy, and dark green (two tones preferred) are the most awesome of the color palette on any large, late model truck, and any modern wheel and tire combination easily fits the theme of a desired build.
This gold, 13 year old truck, with 157,000 miles on its grandpa owned chassis can be yours for an advertised price of $45,000.
I for one am jumping for joy and will run down to the bank to pay the asking price! Won't you?!