Ridiculous Diesels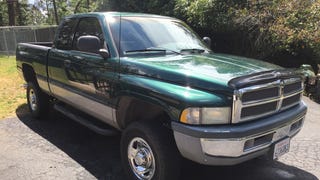 Ridiculous Diesels
The latest installment of the most RIDICULOUS diesel powered vehicles for sale online! Why are they so overpriced? What do you get for the money? Is it worth it? Come join the discussion!
A new year and the same ol' song. Someone has to bring you the new LP releases of "I know what I have" and "Barely broken in" for you guys right? Boy did I find someone with a song about hopes and dreams about getting paid big for their 16 year old truck. Come buy a ticket and see if you'll sit through the entire concert before your ear drums begin to bleed with the first 2019 edition of Ridiculous Diesels!
This is a 2002 Dodge 2500 with the most desirable options of the 5.9l Cummins with the 6-speed manual. This is an excellent combination. I have had some seat time in a near identical truck (minus being cosmetically nice). The truck I am familiar with has over 250,000 miles on the original transmission and second clutch and it has been abused - a lot! So I'd be prepared to say, yes, this is a reliable combination based on my experiences.

This is also the most sport oriented second generation Cummins combination with the exception that it isn't a "Sport" trim. By being a 'sport' truck I mean it has the short bed, quad cab, and all the bolt-on parts you'd ever want to do just about anything! It tow, go fast, mall park hard, or even go off road if you so choose to get it dirty.

Inside you're treated to more sport and performance oriented gizmos and gadgets. The triple gauge pod appears to be ISSPRO and the stereo touch screen is made by... WHAT THE HELL?! It's huge! It doesn't look like its set into the dash but bolted to the front?! Look at the top right corner!
Oh and it appears there is an exhaust brake and an air bag pressure gauge down there somewhere. What is between the TV and the shifter though? Is it a fish finder? I cannot identify it...
I actually really like this truck. It looks correct. The stance is spot on, the bumper is useful, and even inside it looks like the owner enjoyed pouring money everywhere.
With a mere 110,000 miles on the odometer it sings the melody of "Ain't broken in yet bro!" But what does a 16 year old truck with a little over four times around the globe going to cost?
It can be yours for the asking price of $32,000
This is officially the most expensive second generation Dodge I have seen that isn't a complete show truck... JEBUS CHRISTOS! If I really wanted this truck I'd offer a realistic amount of money and tell the owner to do THIS.