Ridiculous Diesels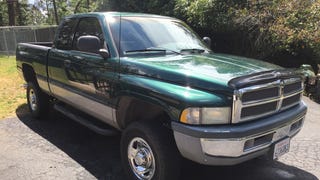 Ridiculous Diesels
The latest installment of the most RIDICULOUS diesel powered vehicles for sale online! Why are they so overpriced? What do you get for the money? Is it worth it? Come join the discussion!
Full blown epidemic. Grab the 'bug out' bag, wake the children, and empty the safe. Every person needs to carry as much rations and weapons and ammo they can. We're headed for the hills. Burn down the house and all fields between us and them. Scorch the earth. We are officially screwed if we remain still. This truck was the key that opened Pandora's box of used diesel inflation.
At first glance this 2004 GMC 3500 Dually (DRW) Duramax 4x4 doesn't look dangerous. It looks like grand-dad's dream of a working retirement, met only with coffee shops, antiquing, and some light towing, probably a late model travel trailer that was far too light to warrant a dually.
Why so dangerous? It is the slippery slope to the 'everyone' thinking their truck is the super desirable type. It is an owner appearing to advertise their vehicle as something that it is not.
What this truck isn't? LLY.
It is actually LB7.
We don't want the LB7! We want the LLY!

Why not an LB7? Injectors. They are prone to failure and require removing the valve covers to replace. At a cost of around $3000-4000, it isn't the type of achillies heel you want in a diesel. The LLY? Much more reliable and easier to replace the injectors.
Who knows? Maybe the injectors have been replaced already. The ad doesn't say. It does say that it is equipped with a "Engine Akculator" and "Super Scoop". Whatever those are...
Now, I am not thinking the owner is purposely advertising this as a much more expensive truck than it is... there is nothing in the ad that would lead me to believe that, except for a price. I truly think the owner believes they can command the price as 'other 2004 GMC' trucks are being listed similarly... the slippery slope I am talking about...
The secret with knowing which engine you want is with the VIN. The 8th digit tells the story. If it is a "1" it is an LB7. If it is a "2" it is a LLY. This truck is the one you don't want. 
I'd like to be the fly on the wall when the next owner figures this out. I can't wish them bad luck to find out when the injectors go bad, as I am a firm believer in karma.
I can't also wish that this person doesn't get their full asking price. I disagree with it, but I am a mostly informed automotive enthusiast with a keyboard to boot! I would be upset if this was a LLY but the fact it is LB7 makes me feel like I'm coming down with Giardia (aka the beaver fever). If this is what it takes to get a clean, stock, and unmolested truck, it's time to think about buying new.
The price as listed? - $39,950 with 89k miles.
https://monterey.craigslist.org/cto/d/2004-gmc-sierra-3500-dually/6615836241.html
I, for one, am considering new! A brand new truck can be had, albeit stripped out, for around $45,000.
That's 14 years newer with near zero miles! No beer farts in the seats, or pot holes on the suspension, no one cold towing a heavy load.
The dream. It is alive.
It is time to take a stand! From my mountain hide out, surrounded by supplies, I will fight off this epidemic by... buying a new truck. Screw the used trucks.