Ridiculous Diesels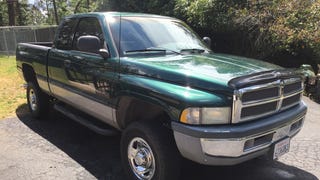 Ridiculous Diesels
The latest installment of the most RIDICULOUS diesel powered vehicles for sale online! Why are they so overpriced? What do you get for the money? Is it worth it? Come join the discussion!
The forbidden fruit of GM - the Duramax Suburban. Oh how I desire it. We were given so little in the name of long wheelbase, body-on-frame SUVs with diesel offerings. The Excursion was your only choice - even though a Mexican Ramcharger and Cummins combo was available on the parts shelves from Chrysler. This Suburban could have been so much easier to create from GM...
Today's forbidden fruit made real is a 2005 Chevrolet Suburban with a donor drivetrain from a 2006 LBZ. You read that right, you can have your long tail with the 'best' 'most popular' 'highly desired' LBZ Duramax engine right before we went through another round of emissions related mumbo-jumbo.
The cherry on top? It's also got the Allison 1000 six-speed auto. This is an excellent combination. People used, abuse, and somehow they keep on truckin'. I've always been a Cummins fanboy but there is no denying Chevy got some things right when they paired the Duramax and Allison together.
Now I know someone is thinking, "But you can get a factory Duramax Suburban!" This isn't true. I thought it was! My memory about pricing a fleet diesel version was wrong. You can get the HD if you order the fleet version but no diesel (might we see a 3.0 Durmax in the near future?). You'll also need to pony up a STARTING price of $80,315. Let's just say this particular '06 Suburban is much, much, cheaper than that.
Looks clean doesn't it? Almost like GM did it. I'm impressed by the look of it. Granted I believe many of the items needed are a bolt on type affair but still... so many people are unable to make things look factory again after removing an automotive heart and soul.
The seller states this particular Suburban has just over 131k miles on the conversion. I am confused if this includes the chassis but regardless I don't see much I don't like. It appears stock, clean, and unmolested. The best donor bodies should include all of those adjectives. The silver birch paint and tan interior are growing on me. It seems every GM product from the early to mid-2000s was this color combination. It has flooded my mind over the years but due to a declining stock of them on the road, I'm beginning to like the sight of it.
"Conversion details.

-LBZ Duramax/ Allison 1000 6 speed
- 75 hp tow tune/ can be removed if so desired
- AFE intake
- MBRP 4" straight pipe exhaust
- EGR delete Via EFI LIVE tuning / can be enabled upon request
- 100% dual fuel tank operation
- All new changed fluids
- All new brakes
- New rear rotors and calipers
- 3.73 front differential
- 3.73 11.5 AAM rear duramax axle with g80 locker"
Not a bad list of upgrades, fixes, and stats right? I don't think I'd be doing much more than a tow tune and the bolt on parts either. This is an excellent truck to leave mostly stock, haul the family and a massive trailer into the wilderness.
Let's just hope this one is cheap. I mean all I seem to find is Ridiculous things...
$25,625
Whoa. Duramax Suburban dreams are expensive.