Ridiculous Diesels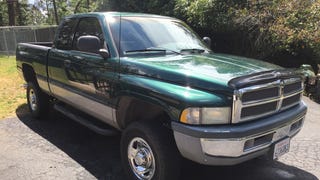 Ridiculous Diesels
The latest installment of the most RIDICULOUS diesel powered vehicles for sale online! Why are they so overpriced? What do you get for the money? Is it worth it? Come join the discussion!
The Hawaiian islands are known for high gas prices, copious amounts of rust, state vehicle inspections (that are apparently a joke), modified Toyota's literally everywhere, but not for a big diesel culture. Why is that? Is diesel too expensive? Is there no reason to tow? Maybe we can find a deal?!!!
Today's feature comes from the Big Island of Hawaii, or if you are a technical person - Hawai'i. This is a 1996 Ford F-250 with the Powerstroke 7.3l diesel. It is a 4wd truck with a 5-speed manual transmission with a mere 156,000 island miles.
I've written about how much I like these trucks. They're simple, cheap, durable, and have a solid aftermarket if the stock horses don't get that trailer moving fast enough.
What I really like about this particular truck is the sheer amount of environments it is shown visiting. For those of you who don't like the tropics (weirdos) the Big Island has nearly every climate on earth. This truck has seen almost all of them!
Now that you're caught up on your geography... what do YOU think of paying...
$12,000
Tempting but still a tad rich... under $9000 I'd move to buy this one. I could spend my days sipping fruity booze from the tailgate, until the hot orb in the sky dips into the ocean...