Ridiculous Diesels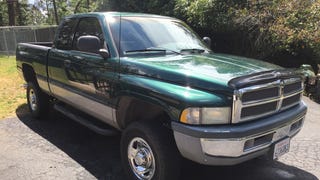 Ridiculous Diesels
The latest installment of the most RIDICULOUS diesel powered vehicles for sale online! Why are they so overpriced? What do you get for the money? Is it worth it? Come join the discussion!
What exactly is a "Holy Grail" truck? You've heard the term as is readily thrown around online. Many people advertise their trucks as being 'holier than thou'st' truck. It has come to describe a Dodge Ram Cummins 6BT with a manual transmission and four-wheel drive. However, that is not the true description...
The advertised truck is being soldas the 'Holy Grail' but, it isn't a little more than the best drivetrain options available for 1989. This year happens to be the first year the 6BT Cummins was offered. Commonly called a 'twelve-valve' by enthusiasts, they are well known for their reliability, durability, and longevity.

For anyone who has owned a 6BT equipped truck (me included) - they're not really known for having a lot of power at stock levels. This particular truck came with a mere 160 horsepower and 400-foot pounds of torque when new. You'd imagine over the last 31 years it has probably lost a few ponies to the prairie.
Where the 6BT shines is the ability to accept high horsepower modifications, and gobs of fuel, while still remaining happy. These engines are absolutely stout, and rock-solid when anyone with a wrench and a couple of nickels gets their hands on one.

The transmission, on the other hand, needs to be a manual transmission. The automatic for the first couple years of the Dodge/Cummins marriage was the three-speed A727. While this wasn't a terrible transmission, it lacked an overdrive, and asking it to hold 300 wheel horsepower will cause it to give up the ghost. Like anything, it can be made somewhat reliable, but the manual transmission needs much less to hold the same power.
Lastly, this truck is a standard cab. It can hold a maximum of three people, and not much else unless you find it acceptable to use the truck bed. A true 'Holy Grail' truck needs to have the largest cab available. In 1989 the largest cab you could get from the factory was the extended cab as the crew cab (four-door) was phased out in 1985.

In 1989 your choice cab for a 6BT Cummins was either the standard cab or extended cab, there was no crew cab. This extended into the following generation from 1994-2002 - there was no 'factory' crew cab. You could get an aftermarket conversion in the second generation to make it a crew cab four-door. The true factory crew cab wouldn't come until 2003.
In 2003 we finally were given the full four-door crew cab we always wanted. Dodge in their infinite wisdom took the extended cab, added a few inches, and moved the door handle from the b-pillar jamb to the outer door skin. It was marginally larger than the previous generation extended cab.

It wasn't until 2006 that the MegaCab was introduced, and then in 2010 when the everyday crew cab's rear doors became big enough to consider it as a full four-door. This proper cab is now mute as the drivetrain you want ending in 1998 as the 6BT bowed out of use for the ISB in 1998.5 and later adding common-rail injection and a large displacement as the years went on.
So when and what can we call a HOLY GRAIL if we can't get the proper cab and drivetrain at the same time? I'd argue that the few trucks that are truly something you can call a 'Holy Grail' aren't even something Dodge produced at the factory. They are the trucks we all wish they'd offered from the factory but, never did.

A true 'Holy Grail' truck needs to be the 6BT Cummins, NV5600 six-speed manual, 4wd, and with a crew cab. The only way you can get this is by adding a drivetrain to a 1985 or older crew cab OR finding one of the few aftermarket four-door conversions that were performed to the second generation trucks.
Anything less than the proper drivetrain and a crew cab is not a 'Holy Grail'. The truck used for this rant is then not a Holy Grail. It is a well maintained, and desirable truck, but even in 1989, you could order the extended cab, which should be considered Holier than this truck..?
Maybe none of this matters to you. Maybe you want a classic 6BT Cummins, with a manual transmission, and four-wheel drive. You could care less for more seats and interior room! This could be the truck for you. At 31 years old it has done a mere 147,000 miles.
If you've got $15,990 burning a hole in your pocket, go buy it now! If you do, you'll be well informed to haggle down the price as this is no Holy Grail. It is Holy but you'll have to pour yourself a cup if you want the grail.
https://sfbay.craigslist.org/pen/cto/d/san-carlos-1989-dodge-first-gen-cummins/7069360940.html