Ridiculous Diesels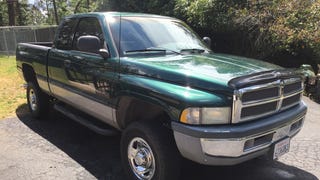 Ridiculous Diesels
The latest installment of the most RIDICULOUS diesel powered vehicles for sale online! Why are they so overpriced? What do you get for the money? Is it worth it? Come join the discussion!
Let me play you a little song.. ahem... "AINT NEVER GONNA HAPPEN AINT NEVER GUNNA HAPPEN..." Now hear the bass drop for what happens when a 1967 Suburban and a 1996 Dodge Cummins meet with a mad scientist.
https://sacramento.craigslist.org/cto/d/cummins-suburban/6594006219.html
The owner of this 1967 Suburban took a 1996 Dodge 3/4 ton Cummins and hashed them together. How much say you for this truck that has been "done right"? Only a mere $36,000.
A body in primer, used engine with 150k miles, but per the seller it will "last forever". They're a bit more optimistic than I am. It does have a five speed manual which is ingredients for a HOLY GRAIL build. I can't however feel sad that the truck that was donated for the build (Dodge) would be more fun to own than a Burb-doge.
What say you Oppos?! Should we pool some money together, look in the sofa and under the rug for the cash to buy this thing?! Or meh, and walk away?