Ridiculous Diesels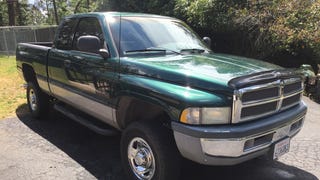 Ridiculous Diesels
The latest installment of the most RIDICULOUS diesel powered vehicles for sale online! Why are they so overpriced? What do you get for the money? Is it worth it? Come join the discussion!
The drivetrain swap. We all have an opinion. Is it okay to swap between brands? Models? What about eras? I've always been more of a purist - to keep it in the family. This Dodge was lucky get a heart and spine transplant from its grandkid but what does all this automotive butchery cost?
This is a 1968 Dodge W200. The forsale ad doesn't say what the original engine was, but we can see it is (arguably) better than stock with a 12-valve Cummins being sourced. The old twelve is backed up by a five speed manual, NP205 transfer case, and the excellent Dana 60/70 front and rear combination.
I do think trucks like this are special. To take the best and easiest parts to swap into a vintage piece of iron is part of our future . Have you ever owned a carbureted vehicle? They aren't always fun or reliable. Sometimes the piece of mind to know old green will always start is enough we need to drop a couple thousand dollars.
The exterior of this truck has all the vintage styling I enjoy. It's got tall, skinny tires, period wheels, and a two-tone we just aren't lucky enough to get anymore. The paint color looks of the period, unfortunately I am no vintage Dodge expert so I have no idea if this is a factory color. It does however look like it's had better days... old repaint? Maybe original, but I doubt it.
Inside the truck gets better. The seats look reupholstered. The dash and interior paint look to be in decent shape. There is even free beer! This is the type of vintage interior we should all envy after. Clean and mostly original. The tasteful will hide the aftermarket bits with care. Anyone can slap on parts, it's choosing the proper parts that matters.
Where things get interesting is underneath. There are plenty of new, refreshed, and repainted parts. Everything that was necessary for the swap appears to be on just this side of 'I would eat dinner off it'. What I wouldn't eat off of is anything that existed prior to the swap.
I mean if you're going to take the time to do an epic, and mostly very proper swap... why not take the time and repaint the frame?! How much time would it take to wire wheel and coat the frame and other suspension parts? I'm betting some of you would have the whole truck done before lunch.
Even the stock suspension parts suffer from this lack of follow through. Those leaf springs look terrible compared to the remaining parts. If the replacement parts didn't look good, I'm betting the bad wouldn't stand out this bad. There is truly some room to put some lipstick on this pig.
I really like this truck. Builds like this are the future I want. I want all of the classic looks, feel, and character without all the hassle that comes with the classic car ownership. The best of both worlds. This truck is a gem, but one that needs just a tad more time at the gem-cutters hand. This is a SI1 quality truck with a VVS1 price.
It can be yours for $27,500
This is ridiculous, but someone could pay for it. Will it be you? Not me. I'll stick with cleaning up my own 12-valve.