Ridiculous Diesels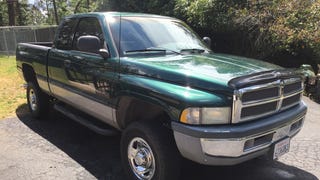 Ridiculous Diesels
The latest installment of the most RIDICULOUS diesel powered vehicles for sale online! Why are they so overpriced? What do you get for the money? Is it worth it? Come join the discussion!
Welcome to the first edition of Ridiculous Diesels for 2020! I've scoured and slummed the internet again for more of the best-worst priced diesel trucks. Starting off this year we have a paint-blasted-off Cummins for sale for a King's ransom. Come and see what your hard earned money will buy you in twenty-twenty!
This is a 1996 Dodge Ram 2500 Cummins 4x4. It was painted from the factory in old-man spec green with silver stripe two-tone. The exterior being benefited by affixing aftermarket black wheels, with a polished lip, in an effort to being this truck into 2020 in style. The exterior is not benefited by the lack of paint now missing after 24 years in loyal service to its owner(s).
Under the hood there is the glorious 6BT twelve valve, oil burning wonder. This is the most simple, and durable diesel engine ever equipped to a consumer grade pickup truck (fight me). Being simple and reliable this engine lends itself well to aftermarket mods - such as the owner affixed Banks Twin Ram intake (with the CA spec EGR system still present?!).
Inside we have what I would consider a clean interior for its age, especially since the fact no one ever took care of these trucks. Have you ever looked up the price to replace the seat foam and bottom material on a 1996 truck like this? I have. I own one. I have the same exact damage on my truck.

The cost for seat parts is around $250 with tax and shipping. That's two-hundred and fifty dollars for half of a seat before you consider taking it to an upholstery shop (unless your an automotive masochist who enjoys tackling that type of work).
This kind of 'mostly clean but neglected bits' begs the question regarding the dash...
Is it complete?
Does it have cracks?
Is it completely collapsed with mice taking up residency?!
This dash looks complete! Granted, the aftermarket is now supplying dash parts, but little whispers have told me most people would rather saw off their toes than replace another dash.
Out back we have a typical truck bed. It contains a fifth-wheel parts, signaling the sign this truck was USED and probably a little abused. The seller has signaled that their a reasonable person and will let the .05 CRV aluminum can be included in the sale. The ladder and milk crate however will not be included.
What does all this blasted paint, seat cratered, and recycling adventures going to cost you? Did I mention that it has a low odometer of a mere ~149,000 miles?

All of this can be yours for the pocket change sum of...
$18,000
Dollars, yes. Not Dong, Yen, Peso, Ruble, or Birr, nor Doll-Hairs.
C'mon team! Who's going to buy this gem?! I've posted the link below.
Welcome to 2020. Nothing has changed.
https://sacramento.craigslist.org/cto/d/citrus-heights-1996-dodge-diesel-x4-low/7042994953.html