Ridiculous Diesels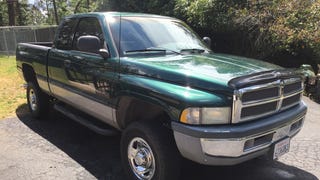 Ridiculous Diesels
The latest installment of the most RIDICULOUS diesel powered vehicles for sale online! Why are they so overpriced? What do you get for the money? Is it worth it? Come join the discussion!
How many miles on a truck does it take for you to pass? What if the truck has had a ton of work done to it including a bed stretch?! Quarter million miles? Less? More? Are you ready to take a stretch and buy this custom Cummins Megacab Long-bed?
This is a 2007 Dodge Ram 3500 DRW 4x4 with the desirable Megacab. For those of you who have been in the crew cab version, you'll remember it not being much larger than the 2nd generation (98.5-02) trucks with the rear pocket doors. It seems they added a couple inches and moved the door handle to the outside to make the crew cab.
The Megacab on the other hand is enormous. Look at the rear doors and the space behind them. It's a cowboy Cadillac. So much space for activities! The Megacab of course comes with a premium, and with the 06-07 MDY trucks, they're well sought after.
What you don't get with the Megacab is an 8' long bed. The best Dodge could do is a short box. I'm not upset. Who needs 23' of truck? Apparently this seller and whoever buys this truck.
The seller of this truck spent $12,000 to stretch the frame and add a long bed. This truck can haul any standard 8' load with its occupants in MEGA comfort. This is as good as it gets before we start adding doors...
This truck is advertised as having been used to haul RVs for the last 6-7 years. It's owner has then added some serious miles... but wait! It has a rebuilt engine, transmission, tons of new parts including a turbo and injectors. There is no disputing many bank accounts were squeezed and bled to build and keep this truck on the road
Does that make it a new truck?! No, so I'd like you to remember someone has been running over the same pothole on I-95 and squeezing beer farts into the seats for the last 480,000 miles. Miles can ever be taken off a chassis, no matter the amount of new parts, the odometer doesn't lie.
What does a stretched, dually, with all new parts, and a good looks going to cost?
$25,500
I've created the spark, time to fan the flames or call the fire brigade to extinguish this inferno.
https://redding.craigslist.org/cto/d/rio-linda-custom-2007-dodge-ram-3500/6970054669.html