Ridiculous Diesels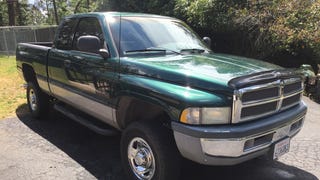 Ridiculous Diesels
The latest installment of the most RIDICULOUS diesel powered vehicles for sale online! Why are they so overpriced? What do you get for the money? Is it worth it? Come join the discussion!
Grandpa thought of his truck as a tool. The type of tool that got abused, worked hard, and fixed only when broken. Three years my truck was left to rot with the windows partially down... Not this truck though! Imagine if grandpa took care of his truck - we'd have been sitting on a gold mine... just like this truck!
Today's Ridiculous Diesels we're featuring a 1996 Dodge Ram 2500 Cummins with the five speed manual transmission. It has clocked a low, grandpa-esque, amount of only 141,000 miles. Finding a truck this old, with this few miles, is very difficult. Finding a 12-valve with this many miles AND in immaculate condition is near impossible... but with the five speed... UNICORN. I said it. I'll own it. These are the unicorns. The mythical creature that cannot be caught!
This particular truck is being sold by a dealer in Sacramento. Now I'm not a fan of featuring dealer owned vehicles, but that's typically because they're not selling what I'd like to feature. Today is an exception. A big exception. This is the finest example of an early 2nd generation truck I've seen, but it's very similar to mine!
I'm frankly inspired. Especially when you see how much this truck is being advertised for sale. Like most sought after vehicles the everyman could buy, they're worn out, well loved, and all the good ones are gone or squirreled away for prices to explode. This truck might be the whistling sound you hear right before the atomic bomb of pre-smog diesel trucks drops... they will be collector vehicles, mark my words.
What amazes me most about this truck (other than the price) is the condition. Look at that interior... the upholstery is about as good as it gets. I can't remember the last time I saw shiny shift boots, unstained seats, and mouse fur door cards without elbow grease. I bet it even has the factory headliner. Those always delaminate and begin to sag.
I do see a dash cover, which 99.94563% of the time means it has a cracked dash. If you had bought one from the factory and parked it in a hermetically sealed box for 25 years, it would still have a cracked dash.
Under the hood you'll see something rarely seen in any smog exempt Cummins... the EGR pipe is still in place... and it doesn't look like it has a block off plate either! I've still got mine, but it's blocked as it finally gave up the ghost! There isn't a lot to talk about other than this being as stock as it can get. Even the battery cables appear stock?!
I'm in love with this truck. This is by far the nicest 12-valve you can find. It has the right engine, transmission, body style, and it's so-so-sooo clean - I'd eat food off any portion of this truck. No joke. Get this truck to my house and I'll eat off it. It is that clean.
I might go run down and buy this one. It can't be that expensive... wait isn't the point of my features to show you how ridiculous the diesel market has become...? Ughhhhh...
$28,500
I'm not mad. Don't make me say I didn't tell you so! This is happening. The clean trucks will start going for big money and then you'll start seeing restorations. Thank god I was able to buy grandpa's truck before it was sold for scrap... the twelve valve bomb is about to explode. Go buy a clean one while you can. I did. I don't regret it at all... except the clean part. Mine needs A LOT.
More details are available on the dealer's website... HERE