Ridiculous Diesels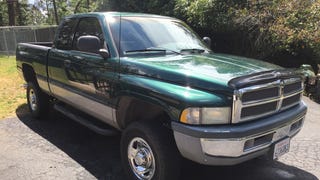 Ridiculous Diesels
The latest installment of the most RIDICULOUS diesel powered vehicles for sale online! Why are they so overpriced? What do you get for the money? Is it worth it? Come join the discussion!
I love me some Cummins trucks. Especially the 12 valve and when they're especially clean. Unfortunately the ol' twelver and clean don't always go together. This one is both... AND it's got compound turbos.
This is a 1997 Dodge Ram 2500 4x4 with the smoky dream of the twelve valve Cummins. It has a low amount of miles considering the age and currently showing an advertised 180-thousand miles.
The seller states 15k miles ago the engine was "gone through" to include the clutch. That's right we've got a standard transmission here! Row your own boat ladies and gentlemen!
What is really special is the modifications under the hood. Compound turbos, specifically "He351 over s5475 compounds". The teenage driver in me would make sure every stop sign is a black and white smoky event. Thankfully I am a civilized modern gentleman and would never drive in any illicit manner.
On the inside we've got some stock Dodge-ness. Nothing to write home about but that isn't a bad thing. Clean and mostly complete are fine. The seat covers are hiding some unmolested seats and I'm guessing the dash rug is covering some cracks.
Out back there is a great looking aluminum utility bed with LED lighting and some big boy flaps. Nothing pretentious about her abilities? The wheels are a massive 22x12" on 35" tires of course the 4.5" lift was necessary to fit them properly.
I like many things about this truck. The look is right, the mods, although a little over the top aren't too crazy. I however don't believe a truck with a wrap will sell for the asking price of...
Drum roll...
$26,000
That's a lot of bones to fork over... how much can I build one for...? Hmm...
See the full ad here:
https://sacramento.craigslist.org/cto/d/napa-1997-dodge-ram-2500-cummins-twin/6872757549.html