Ridiculous Diesels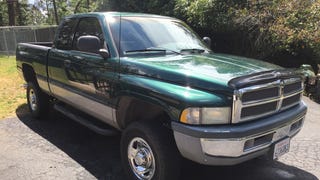 Ridiculous Diesels
The latest installment of the most RIDICULOUS diesel powered vehicles for sale online! Why are they so overpriced? What do you get for the money? Is it worth it? Come join the discussion!
There's some slim pickings out there right now. Plenty of trucks but far less ridiculousness. Are my rants changing the face of the diesel sellers mind? Could we see reduced prices and level headed ads?! Could this truck be the change for a new diesel world order?!!! (#NDWO)
This is a 2001 Ford F-250 with the 7.3l diesel. It's an automatic (unfortunately) and 4wd (thankfully). It's a crew cab and short bed too! All of these things are all the ingredients for the Ford HOLY GRAIL!
It's missing one minor detail - the manual transmission. Just like any Dodge, you're better off with the manual for resale and for reliability. I don't want to rant too long but let's just say the 4R100 is junk. Especially considering the vastly superior 5R110 that usurped it.
But let's dive into the largest elephant in the room. Are those 20"s? No! 22"s?!! Bigger! TWENTY-FOUR INCHES OF MEAT AND CHEESE BAY-BAY!!!! Love it or hate it, I don't see this trend stopping. It might not go much bigger for any common enthusiast but this won't be the last truck on 24"s you'll see. Some of you might have seen one today!
How might someone fit the massive 37/13.5/24 inch tires? An eight inch lift fixed all that! The 37s on this F-250 are dwarfed by the shock value of the wheels - IMHO.
The interior too has held up well. Cloth is always a safer bet as leather never seems to be maintained properly by anyone... After 18 years, if this had leather I'd be willing to bet it would look like a Port-a-John seat compared to a dentists lobby arm chair covered in cloth. Both would be covered in a fine layer of doo-doo, but one is much nicer and comes clean easier and with less hard grasp fingernail dents.
The best part is that they actually lifted a child seat into this beast! Kids are heavy enough but when you have to deadlift them to the moon - it's straight hard prison labor. There is nothing heavier after a long day than a screaming child in a car seat. You'd swear the massive diaper they're wearing is full of lead.
What's it going to cost you to buy Bigfoot's 7.3l cousin? Did I mention it has 189,000 miles? Three dollars fifty cents? A straight trade for your LS/Vtech swapped Integra you never finished? More than those!
$22,500
I'm not mad. I'm just disappointed...