Ridiculous Diesels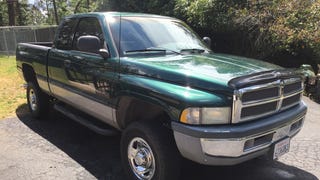 Ridiculous Diesels
The latest installment of the most RIDICULOUS diesel powered vehicles for sale online! Why are they so overpriced? What do you get for the money? Is it worth it? Come join the discussion!
This is a 2001 Dodge Ram Cummins with exactly one-bazillion horses and torques. It has been around the world at the equator no less than 14 times. I believe this truck might be the perfect example I've been searching for - to show the world the shear ridiculousness of diesel trucks.
Let's get one thing out of the way - the owner (if everything is true) has spent a grip of money on the engine and transmission. This is no ordinary 24-valve CTD. It is built, twin turbo'ed, and "built for NOS".

I'd imagine that even without hitting the go-baby-go button that this truck goes like stink. Unfortunately, there is no dyno sheet or power figures listed. It does say the twin turbos are a "62 over a 75". I'm guessing they mean the size of the turbos but these would be sequential turbos - it is it staged? Either way, it's semantics, and I'm just being a stickler for detail.

The seller was nice enough to remove the Achilles heel of the 24-valve. No, it still has the VP44, albeit with a tune. Nay! He removed the stock four speed auto and installed a built "68re"! I'm guessing they mean the 68RFE and I hope it's not a typo for the 48re?!!! This would be 'almost' as good as the Allison conversions, my opinion of course.

You can see the new floor mounted shifter for the 68re transmission. I wonder what you do with the factory column shifter? A convenient hand rest? As a hook for a pine tree air freshener? Maybe it could be hooked up as a manual operation for the wipers? So many thoughts...

Sadly, this truck, with all its hot rod diesel mods is the epitome of ridiculousness.
First off, the mods themselves are ridiculous. I am not in any shape or form against hot rodding anything - I'd hot rod a garden tractor given the chance. It's that will someone really use it? It's touted as 'built for pulling'. I hope they mean sled pulling because this truck is overkill for daily use. To each their own - I'd rather have the slower, and cheaper to put to work.

Secondly: The photographs themselves. They're terrible. If you want top dollar, take excellent photographs! The snow could be hiding so many imperfections. It's impossible to know if the snow and dirt is exactly that or if that's a big dent, ding, scratch, or other body flaw.
Maybe fix some of the silly issues too? Headliners are surprisingly easy to replace, not much money to pay someone to fix either. I wonder if the dash is cracked? Of course it is! There are exactly zero Dodges with factory un-cracked dashes now. Or so I am convinced!

Thirdly: This truck has been driven 350,000 miles. That's "on the frame" as the odometer is 311k? Even with the power train, the truck has theoretically been driven over the same pot hole everyday, and could contain thousands of beer farts gently squeezed into the driver seat over those 14 trips around the world. I know I'd be squeezing in some toots while on holiday drinking bohemian style beer.

Fourth and lastly: The seller is asking $30,000. I had to re-read this ad when I saw the price. I thought it was a typo but there would be no way it could be three thousand...? Certainly not. This is a truck that is probably best to part out. Take the sled pulling drivetrain and shove it into a far lower mile, and cleaner body and interior.
This is the best example I have found of the ridiculous disease affecting the diesel truck community. If you can find a better one, I want to see it.
https://sfbay.craigslist.org/eby/cto/d/built-2001-dodge-2500/6771409224.html