Ridiculous Diesels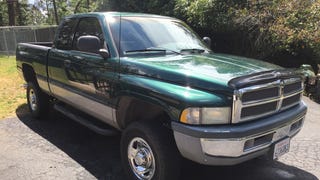 Ridiculous Diesels
The latest installment of the most RIDICULOUS diesel powered vehicles for sale online! Why are they so overpriced? What do you get for the money? Is it worth it? Come join the discussion!
Are you in the market for a used truck? Do you happen to want the Cummins?!!! Have you done a comprehensive comparison of what your money can get you? Frustrated? Let me make you even more angry in today's installment of 'truck prices to make you punch walls'. I've got two trucks that are ridiculous but one is much more absurd than the other...
This is a 2006 Dodge Cummins MEGACAB. It is touted as having the 'rare' six-speed manual transmission. This one can also spin all of its four-wheels on command with a switch because it has... 4wd.
This is probably the best example of the 5.9L Cummins common-rail of the future classics. The 05-07 trucks saw the most power, amenities, and refinement from the earlier trucks.
I'll admit that some will argue against these trucks as they have emissions devices such as a CAT and EGR that the earlier 03-04 trucks didn't come equipped. Regardless, a late model 5.9L Cummins with the six-speed, and in the mega cab body style contains almost everything you'd want and little you don't.
So this is the truck that you might end up collecting one day, if anyone was to ever collect Cummins trucks (they will).
What makes this one special? What makes it cost nearly forty-grand after 13 years of being slowly strangled by mother earth in attempt to bring its elements back to their original forms...?
This one has a mere 43,800 miles. Low. Very low for anything of this vintage. That isn't enough to even hit an oil change interval, unless you're one of the weirdos that still does 3,000 mile changes when you need nearly four gallons of oil!!!
I really like this truck. I like the size, the low miles, the manual transmission. I even like the color. Red doesn't bother me. Had it been yellow, or orange, or lime green... yuck.
What I really don't like is that someone will turn up and pay this guy close to his asking price of $38,900.

---
This is a 2004 Dodge Cummins but in the one ton (3500) form with a crew cab and short bed. It has some upgrades like aftermarket bumpers with the front containing a Warn winch. It has a lift kit (no info) and 'spin free hubs' which I'm guessing is the Warn hubs.
With all these modifications the owner is claiming 22 mpg on the freeway. I am always a bit skeptical about miles per gallon claims with diesel trucks. Let me explain: I previously owned a 99' Cummins, mostly stock, and with the smallest tires fitted stock - 245/75/16.

On a trip to Wyoming, all highway driving on I-80 from California, the best I managed was 19.1 mpg. I have a hard time seeing how a lifted, large tire truck can do better than that with bumpers that catch every stray breeze... but maybe I'm uneducated?
Now that I've stepped off my soapbox of economic ratings - I do like this truck. I like the color, I like the modifications, the wheels... meh. It isn't leather but I don't always find people want leather. I enjoy it mostly because it keeps clean but with any nice truck I'd end up throwing on seat covers.
Now what does something like this cost? Did I mention it has a freshly rebuilt engine? Does that make a BIG difference in price? Or will the mileage still make an effect?
Well it has 184,609 miles. The asking price - $39,000

Do I really need to say which one is the better deal (using the word 'deal' liberally). The red truck. It isn't even close. The red truck is ridiculous. The silver truck is absurd. The silver one is $15,000 over priced - IMHO.
The fact that it is acceptable to sell at 13 year old truck for nearly forty-grand is insane to me. For the same money I can nearly buy a stripped out, brand new truck. The brand new truck may have its modern quirks but with so many new components, I doubt you'd immediately get stranded. The confidence that comes with new things is unmatched when you need it to work.
I am willing to bet someone will show up and pay a ton of money for the silver truck. Probably not asking price but north of thirty-grand. They will not be well read, educated, or have looked hard enough for a truck. They'll be a firm believer in 'it isn't broken in yet' even with a new rebuilt engine that can't be as good as when it was new. Rebuilt things (albeit from specialty engine builders) are never as good from the factory.
So which one of you is going to make a purchase of one of these fine machines? I won't be. Too rich for my blood!