Ridiculous Diesels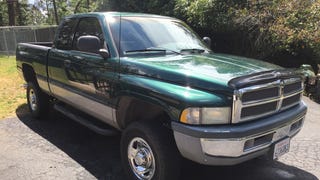 Ridiculous Diesels
The latest installment of the most RIDICULOUS diesel powered vehicles for sale online! Why are they so overpriced? What do you get for the money? Is it worth it? Come join the discussion!
The epidemic is accelerating. The people that have contracted the deadly disease are deteriorating. Those around them have contracted the virus and will continue along a similar path. What can be done? How can we stop it? We must find a cure. This seller has some of the worst of the sickness I have witnessed.
This 2001 Dodge Ram 3500 4x4 Dually is a full figured girl. But would you pay $30,000?!?! Look at those wide hips, the flames coming down the flaps, the DODGE in excellent 90s script. The owner of this truck has made it obvious; 1995 was the best year of his life. Period.
Up front we've got a BIG bumper that shouts, "GRRRR I'm a diesel! I've got important things to do today!" The wheels on the other hand? They shout something along the lines of, "I've skimped in this area as the bumpers cost too much."
Inside, look at those gauges! Staggered like a W8 engine to make them all fit! Obviously this was done well before any touch screen style monitoring systems... Oh look there, a suicide knob! These are fun to drive with until you forget about it on the wheel and snag your hand on it. Ask me how I know...
I am seeing a lot of bolt on parts. Looks cleaner than it should considering it has been around the equator exactly 15.38 times (384,000 miles advertised). Why do these trucks have so much exposed wiring? America sure didn't know how to address this back in the day. It looks like somebody spilled their angel hair pasta under the hood.
I am not fond of this truck. I hate it. I hate the fact it looks stupid, it's ridiculously priced, and that the owner (maybe others) think it is appropriate to do all of these things together.
We need a vaccine immediately! Somebody call the CDC and get something done!
https://sfbay.craigslist.org/sby/cto/d/2001-dodge-ram-3500-diesel/6595965791.html