Ridiculous Diesels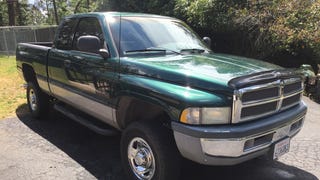 Ridiculous Diesels
The latest installment of the most RIDICULOUS diesel powered vehicles for sale online! Why are they so overpriced? What do you get for the money? Is it worth it? Come join the discussion!
Just when I think I've seen it all, I stumble across another pre-smog gem. Today's feature is a 1997 Ford F-350 4wd diesel that can be purchased with a truck camper. This is the truck you want, but can you afford it?!!!
This is the dual rear wheel version of a F-350 with the delicious and nutritious 7.3L Powerstroke diesel. It is a 1997 model year, and the last year of the boxy headlights. This truck was the epitome of the ranch truck style, and it will continue to be what I think of when I imagine an old diesel towing a horse trailer through the plains of Wyoming.
This is the good ol' mechanical truck you want if you want to tow like a cowboy. You might not get anywhere quick, but you'll surely get there. This truck has a device for any method of dragging weight around. It can bumper pull, 5th wheel, gooseneck-it, or even allow a truck camper to slide in with ease.
The exterior of the truck appears relatively unmolested, yet it does not appear anyone had the time to waste waxing it as the paint appears on its last leg. The re-spray of this twenty-five foot slab of metal might be a bit pricey, luckily there doesn't appear to be much body work needed.
Inside you'll find the Radwood quality, 90's goodness of medium-to-bright red interior. This is a polarizing interior. Whereas I always steered clear of any red interior, they seem to be growing on me... except for that 300zx I owned, that red sucked.
The seats are in one piece (rare) and there is even a period correct CD player. I remember this same model Panasonic being inside my childhood Suburban. This head unit is junk. All the buttons will wear out, and it won't register any attempts to change stations. A replacement needs to be sourced ASAP. Good thing I.C.E. has gotten so cheap, especially if you don't want a LCD screen.
I frankly like this truck. It reminds me of a simpler time. A basic truck with the ability to go many miles without concern for its health. Change the oil, rotate the tires, and repeat.
This truck (with truck camper) can be yours with the relatively low 167,000 miles for:
$30,000
If you don't want the camper it's a mere $27,000... or maybe you want the camper... they'll part with it for $8,000... wait shouldn't the total price be thirty five thousand? Oh... what a deal...
https://sfbay.craigslist.org/nby/cto/d/santa-rosa-f350-4x4-diesel-crew-cab/7052915467.html