Ridiculous Diesels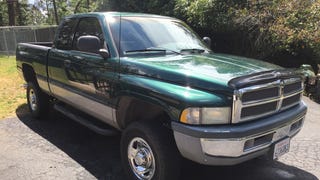 Ridiculous Diesels
The latest installment of the most RIDICULOUS diesel powered vehicles for sale online! Why are they so overpriced? What do you get for the money? Is it worth it? Come join the discussion!
When I first stumbled upon this post I was confused. It looked custom or coach built. The factory lines, equipment, and overall cleanliness of the truck. It couldn't be factory? Could it? I began digging and yes folks, factory. Or should I say, mostly factory as this one is special.

The 3rd generation Ramcharger never made it over the southern border. A Mexican market vehicle, 2wd and gasoline ONLY. What. A. Shame.
I have always had an obsession with diesel trucks. I think it is because I have an automotive palate of a 9 year old boy. There is something about having an engine in a pickup truck that isn't too dissimilar to a tractor. Instead of plowing a field, I'm plowing traffic out of my way.
My first diesel was not only a Cummins, but also like this Ramcharger, the 24 valve. Most diesel guys will give you reason why they have a love/hate relationship with this particular engine. You'll hear things like, "the VP44 injection pump is junk." Others will bring up the dreaded 53 Block that was known for cracking across the water jackets. Yes. Both of these are downsides. But properly maintained? You'll be fine. I was with mine and I had both of those dreaded 'issues'.

Regardless of any of these issues. It is the right engine for this build. The 24 valve was the Cummins engine used in Dodge trucks from 1998.5 until 2002. The period correct engine for a Ramcharger we never got.
The builder of this truck, @aevdave, provided more details to @instacummins.
Now for the wild card. If this truck is a 2001... how is it here legally? I don't want to know, nor do I want to do much digging. I am assuming he has figured out a way. The 25 year rule is typically pretty strict and therefore we shouldn't be able to see this particular truck north of the border until 2026. I am aware of exemptions being made with the right paperwork.
I did however see that it has a MT plate affixed. They'll register anything up there. Many people register in MT for reasons like this, or this, or this.
My guess is that it is registered as the donor vehicle frame instead of the body of the Ramcharger... not exactly correct but very common. Regardless much WANT here. I can't wait until these are easy to get north of the border in 2024.
I'm considering reaching out to @aevdave to get more information. Anyone want a larger article?