This Automotive Habit Of Mine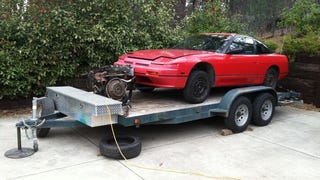 This Automotive Habit Of Mine
My favorite car is my next car. What will today bring to my automotive habit? There could be financial ruin, excellent deals, skinned knuckles, and epic mechanical resurrections. We can't save them all, but the cars that land in our driveway deserve a good ol' college try.
Dirty chicken noodle soup. Picture it in your mind. A darker yellow than the Campbell's stuff. A deep yellow, more like Ramen or Saimen. Now picture small pieces of crud in it. Dark specks floating around. Got it in your mind? Now picture coolant, the green stuff, bright neon green. You see where I'm going here?! This is what happens after 23 years.
That's right boys and girls! I am convinced the coolant in my 12 valve Cummins was the original from 1996. How else could something so green turn so gold?! This definitely did not look like the yellow coolant, it was too crappy, too devoid of life, and too stinky and gross. The signs of neglect were painfully evident. I believe a coolant filter might be good insurance at this point.
A Bit Of History
A few of you might remember that I own a 1996 Dodge Ram 2500 Cummins 4x4 in the regular cab, long bed body style. It has been an eternity since I've written anything of substance about it. I can give you the long story HERE or the short story is that it belonged to grandpa and he became too old to drive it. The truck sat for around 3 years with the windows cracked, in a large puddle, with mice and spiders taking up residence. It had a mere 86,000 miles with grandpa being the original owner - I could not let it rot away.
Almost two years after it's resurrection, we are now the proud 'official' owners of the truck. Being that I can better explain spending money on it to my wife than her family... I decided to open up the checkbook and get to work on some needed maintenance.

The original owner used this truck to work and therefore it was a tool. When do you fix a tool? When it is broken. I believe this truck received maintenance when it was absolutely necessary and not-at-all when recommended by the manufacturer. Case in point - a cooling system flush. The truck did not exhibit any signs of an impending failure, but regardless I certainly did not trust it to go more than about 40 miles from home.
Time To DO Work Son!
I sourced parts from a site I used when I owned my former 24-valve Cummins called Geno's Garage. The total for cooling system parts was $326.11 and consisted of a thermostat, upper/lower radiator hoses, heavy duty belt (green!), water pump, killer dowel pin kit, timing cover gasket, and a fan clutch wrench. I opted for a Gates water pump as the original Cummins branded version is four times the cost of an aftermarket. This cost was compounded by the fact I needed coolant, and a seal driver kit which increased everything by another $162.
I was thinking last night about big automotive jobs I've undertaken in the last couple years and was coming up with a lot of nothing. This was the first all day job I've done since I replaced the exhaust manifold on my 1999 Jeep Cherokee XJ with a Rubicon Express lift (loved that thing BTW). Having two kids probably has a lot to do with my ability to spend all day working on a vehicle... or that's the excuse I'll use. The coolant service took me from around 1000 to 1900 hours - lunch, cleaning activities, and short breaks included.

This is not service I would steer anyone away from doing. It consists of a lot of bolt spinning, few specific tools required (fan wrench, seal driver), and a lot of time hanging over the radiator support to sustain an unusual raspberry on your chest. I will tell you that anything you read or watch probably won't thoroughly explain that the washer and overflow tanks are pressure fit and need to be pried back before lifted out... WHO WOULD KNOW THIS?!!! This is one of the first things you do and it nearly set the tone for me to have a miserable experience. Secondly, automatic trucks will require blocking the flex plate to get the fan and the harmonic balancer off. Don't bother putting the transmission inspection plate back on until the end or you'll be like me and put it back on/off three times believing you were done!
Being that I was going to be tearing apart the front of the engine I went one step deeper by removing the timing cover to install a killer dowel pin kit (KDP). By searching 'Cummins KDP' you'll find a myriad of stories about how this little dowel can rattle from its position and fall conveniently onto the timing gears. Once Mr. Dowel has fallen he positions himself into the tightly meshing gears and locks them together causing a catastrophic failure. One small dowel can destroy the engine. Our dowel pin was still tightly in place. The kit consists of a bolt, metal tab, and a tube of lock tight.
This entire service took me all day. I probably saved myself around $400 to do it myself. It was tedious work, dirty at times, and in the end satisfying. I now know that the engine won't spontaneously implode (fingers crossed), or that it will overheat on a mild winter day. Mechanical work is a necessary evil of this hobby we all enjoy. We can only go so far on the buck that we make, we must be our own technician. I hate having cars broken down in the yard, or paying someone for something I know I can do. Finding time is essential. Make the time and do work!