Automotive Philosophy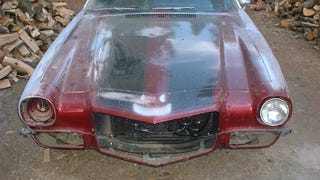 Automotive Philosophy
Enter into the Zen garden of my opinions. Nothing here is rooted in numbers or common sentiment. The arguments made are supported by witchcraft, stereotypes, and sayings such as 'that's the way we've always done it'. My automotive mental illness might be contagious, you've been warned.
I was going through my list of cars that I've owned and I saw something interesting - I've owned a lot of cylinders. By that I mean I've owned many cars with many different cylinder configurations, amounts, and motives of fuel. If you want to diversity your automotive resume, I recommend you start filling gaps like I'm trying to do.
This hobby of ours isn't always conductive to positivity. Especially for a critic and never owning the motor being critiqued. I most recently noticed this while I critiqued the C8 Corvette. I've never owned a Corvette. Should that matter? I've never really wanted one for many reasons, mostly because they're expensive (for what I want - C6 Z06) and they aren't in the cards considering I've got two young children.
What is positive is that I can look on my list of motors I've owned and see that somethings I'm doing right, others are wrong. I believe that as an automotive enthusiast you need to be eclectic. Buy all the motors, and enjoy all the motors. I mean how are you suppose to really find your own wavelength if you don't experience as much as you can? Home is found this way, so is a wife, and so is that special car you drive on weekends. Now don't read too much into that, I'm sure you get the point, it is about finding what suits you and your lifestyle best.

At this point I have owned twenty-five vehicles. By vehicles I mean those with a license plate that were driven on a public road. I have completed every broken down purchase to the point where it was driven on the road at least once. The best example I have of this was my 1971 Camaro - I drove it twice, once home, and once to my residence in college. In the four years I owned it I believe I drove it 90 miles. This is of course only slightly worse than the three years I owned my Hardcore Camaro at 3 years and 250 miles. I found that hot rods aren't in my wavelength...
The average age of my vehicles is approximately a 1998. I've owned twenty five vehicles consisting of 22 gasoline and 3 diesel powered. They can best be summarized as such:

(4) inline gas four cylinders
(2) gas boxer fours
(7) VEE-Sixes, all gasoline
(3) inline six cylinder gas motors
(2) inline six cylinder diesels
(5) gas V-8 engines (3 with carbs)
(1) diesel V-8 engine
(1) gas V-10
Honorable mention - 3 cylinder diesel Kubota B2650!
I still have plenty of gaps to fill in as I would love to get a V-12, a couple more diesels, and some oddballs (rotary?!). I actually went with a friend last weekend to look at a 2001 BMW 750il for a very cheap price. It ended up being much rougher, and dirtier than described. The seller had zero BMW knowledge and stated he'd 'throw in a 454ci if it doesn't sell soon'. The car has more than 20 computers and it appeared the bridge computer wasn't working, so only two or three were communicating with diagnostic software. Sadly, it was a day mostly wasted.
It got me thinking... I want a V12 engine now. The E38 is probably the best bet, but there are a couple other options out there. Maybe a Jag? Hmm...
"I'm going to buy a cheap V12", might be the most masochistic sentence ever said.
What do you think? There should be a name for a goal to own all the major cylinder and fuel motive types... mountaineering has the Seven Summits, baseball has the cycle, why can't we have owned all fuel and configuration engines from 3 cylinders to 12?! Does that mean I need a V12 and a flat-12... this might be more expensive than climbing all the tallest mountains!
I might seriously look into a V12. Not sure what, maybe a 750il or Jag would be the cheapest? I currently own the cheapest V10 that isn't in a pickup (read: E60 M5). I am very fascinated by owning a 2014-15 Camaro Z/28 right now... I haven't owned a modern Camaro yet!