This Automotive Habit Of Mine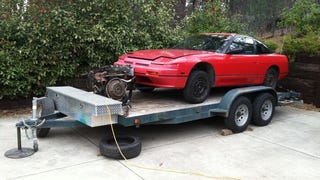 This Automotive Habit Of Mine
My favorite car is my next car. What will today bring to my automotive habit? There could be financial ruin, excellent deals, skinned knuckles, and epic mechanical resurrections. We can't save them all, but the cars that land in our driveway deserve a good ol' college try.
I enjoy using my hands. I don't think they enjoy me. Once upon a time I was a mechanics apprentice and studying for an A.S. in Automotive Technology. The more I worked on cars, the more dexterity I acquired, but the opposite is also true.
I have not been able to work on my cars as much as I'd like over the last decade. I still enjoy it but I find my skill is now lacking when it comes to many aspects of the hobby. I'm just not as strong, my hands get tired, and my patience is lacking.
Naturally, then, my mind pushes my hands to go too fast, I lose my patience or lose physical control. These things then happen...
---
---
---
---
---
This was my right thumb vs. 2015 Chevrolet Tahoe driver's door jamb. It FULLY closed on my thumb. The bone was broken in half and the nail was lost.

Four shots of lidocaine were used to numb it enough to shove the nail back into its bed. Took about 6 weeks before the bone healed enough to put any significant pressure on it.
But hey, I got a free tetanus shot out of the deal and a couple weeks of easy work.
---
Not nearly as bad but still annoying. This was a three way battle between my left ring finger vs. mini sledge vs. 2003 BMW 325it. I was knocking off one of the rotors when my aim slipped. Why the hell was I holding anywhere around where I was whacking away? I have no idea.
---
And most recently... vs. 1970 Chevy Camaro. If any of you read any of my posts about my power steering issues, you'd have found a little gap between start and finish. This was because I hurt myself again. It doesn't look that bad but the meaty portion was pulled out exposing some fat. I pushed it back in and wrapped it up. Hopefully that tetanus shot wasn't expired from my earlier adventure. This could have used a few stitches but it seems to have healed okay.
Anyone else a hot mess in the garage?
I have no problem admitting to all of you that I am not a garage wizard nor am I truly skilled at any of this. I'm much better at the pencil and paper problems or those verbally described issues. Accidents happen and the best thing I've found is to keep moving forward with my automotive escapades.
If this wasn't gross enough. Here's one more!
Bonus:
+10 points to any of you who continued to eat while reading this article.