This Automotive Habit Of Mine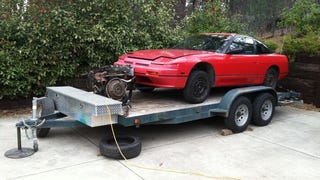 This Automotive Habit Of Mine
My favorite car is my next car. What will today bring to my automotive habit? There could be financial ruin, excellent deals, skinned knuckles, and epic mechanical resurrections. We can't save them all, but the cars that land in our driveway deserve a good ol' college try.
I don't particularly enjoy crusty, rusty, ooey-gooey, greasy, oily hot mess project cars (or do I?). But I'll do anything for a fun Nissan. I am a Nissan fanboy after all. It's a problem I have, and one that I'll share with you in the 1989 Nissan 240sx that I built. It was an adventure that started with a $300 purchase.
Somehow this thing landed in my lap. A friend had bought it but didn't quite have the room to store and complete this build. For $300, I thought, "How much work could it be?" Quite a lot I would soon find out.
This was a SOHC KA24E in all its glory despair. The 240sx had been on a non-operational registration for a decade. The head gasket blew and it sat. And sat. Annnnnd sat. Finally an adventurous drifter bought it, and it began to flip from one friend to another before coming to my possession. Each time the deal was passed along, $300. Good ol' hot rodder karma passed along.
It. Was. Gross. Most interior plastics were either haphazardly thrown into the back or missing altogether. The dash was cracked and covered in a decade of grime, dirt, and probably human bodily fluids. I was in need of several plastics, door panels, full stereo system, center console, ughhhh the list went on and on. A dealer was ultimately required for some clips and nuts.
It had the original license plates. It appeared all stock. Unmolested. Heavily neglected. Rear wheel drive. Five speed transmission. Drift mobile. A perfect candidate for some wrench time, money, and car guy lovin'. I strapped on put on some gloves and went to work.
The Work Began Bright and Early at 10:30am:
First to go was the engine. I immediately replaced it with... me. This was one of the first engines I ever pulled. It required a victory photograph. Now-a-days I like the Captain Morgan pose. Pulling an engine is always easier than putting it back in. In this case we weren't worried about the engine coming out as it was junk. Many of the parts on it we not needed as the used engine replacing it was complete.
For the grand total of $200 we had a used engine AND transmission. What began as a potential headache was actually going quite well. In about 7 hours of work we pulled the old drive train and replaced it. Success!
Just as my spirits began to soar... the 240sx began to give up her secrets. It ran rough. The kind of rough where you can mix paint on top, type of rough. I had some work to do. Money to spend!
I had approximately $500 invested in a now running 1989 Nissan 240sx, five speed, with approximately 190,000 miles. Not a bad deal. I had to trailer it home from the SF Bay Area as I did not trust it to drive nearly 3 hours home. It just ran so incredibly rough.
Taking Dirty Silvia Home:
I soon found the problem. The injector harness was green. This is a common problem with early 90s Nissan vehicles. I had run into the same exact problem with my 300zx. I attempted a quick fix but sadly not even this worked. The corrosion from sitting worked it's way back into the harness about 1-1/2 feet! A used harness was sourced for the solution.
Many hours later it ran pretty good. Enough for it to pass California's notoriously difficult smog testing. Once the engine was completed I turned my attention to the interior.
Hours and hours were spent scrubbing, rubbing, and replacing. The steering wheel could not be saved. Neither could the shift knob. Next best thing? Upgrade! A MOMO deep dish wheel and a Tomei shift knob were both sourced for a great deal.
I parked it outside during a rain storm and woke up the next morning to this... it was shedding! A new 240sx was about to be born with new paint! No, wait, what the hell? I have never seen this before. Water must have gotten between the deteriorated clear coat.
The End Result:
Would I do it again? Sure. I loved this thing. Sadly, like all my cars, I sold it.
"My next car is always my favorite car."
I ended up having $2100 invested. I found a buyer at $2800. A meager profit for a lot of work.
The worst part? The interior, hands down. I put so many hours into it getting it clean. The rear window tinting was a paint to take off. It was purple and bubbled everywhere. I found a product called Tint-Off that worked wonders.
What did I learn? The 1989 240sx is NOT the 240sx you want. It has annoying things like the automatic seat belts, a stupid looking front bumper and the SOHC KA24E is a dog (you want the DOHC KA24DE). I'd recommend starting out with a cleaner car than this one.
Prices are on rise. I'd love another one but I'm not going to pay $2000 for a rougher one than this...
What did I end up replacing the 240sx with you may ask?
This:
But this is another build story for another day...