This Automotive Habit Of Mine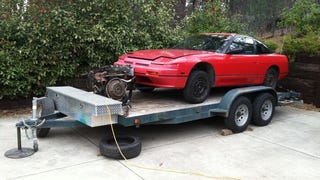 This Automotive Habit Of Mine
My favorite car is my next car. What will today bring to my automotive habit? There could be financial ruin, excellent deals, skinned knuckles, and epic mechanical resurrections. We can't save them all, but the cars that land in our driveway deserve a good ol' college try.
Right now I couldn't care less what Doug or Hoovie (or anyone else) has to say about the E60 M5. It is a teenage dream come true. This thing makes my libido go coconuts. I will have a lot to write about in the coming weeks... but first a picture and a clip of the best M5 ever made.
This thing is an absolute animal. In M-Dynamic Mode it is by far the fastest car I've driven at this point. I am grinning ear to ear. I'll have to save the M button for special occasions!

I made a quick video of the exhaust. It has RPI exhaust with resonators. It sounds... just listen!!!
I'll have a lot to say about this one. I wanted to share my excitement about it. Enjoy.
Dreams do come true.