This Automotive Habit Of Mine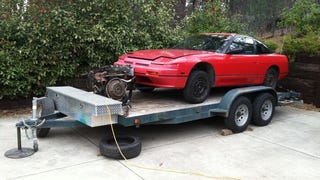 This Automotive Habit Of Mine
My favorite car is my next car. What will today bring to my automotive habit? There could be financial ruin, excellent deals, skinned knuckles, and epic mechanical resurrections. We can't save them all, but the cars that land in our driveway deserve a good ol' college try.
I have no idea where I got this idea, but it is epic! I added [mostly] automotive oriented movie posters to an empty wall in my garage. I made some interesting choices... Tokyo Drift. Casino Royale. Gone in 60 Seconds. Senna. All movies that shaped some sort of image I had about automobiles. Do I need more? Why did I choose these?!!
Now, I've talked a bit about my garage in the recent past. I have a three bay garage encompassing around 1700 square feet. The middle bay is where the E60 lives as it is the least useful as there is a dividing wall that is too close for any real work to happen.
This dividing wall has electrical outlets on one side. Although I could add boxes to this side, I opted against it as there really isn't enough room for a workbench or even shelves (except up high). There is approximately 2' between the outer edge of the garage door and the dividing wall, as opposed to around 4' from every other door. Any other place will accommodate a 24" work bench if I so choose.
So what do you do with a useless wall? I thought about painting this space with a large dealership style two-tone or a racing stripe... but my automotive interests change so fast. I can't have a future Ford Shelby inside a garage painted Chevrolet orange! That is sacrilegious!

Somewhere online I saw a garage with several automotive movie oriented posters placed on a useless wall similar to mine. It contained numerous movies that I had no real connection with - Bullit, LeMans, etc. I am in my early-30s, those movies came out when my parents were young. I enjoy those movies but they didn't do anything for me - they didn't shape any of my ideals, beliefs, or principles.

I had to choose movies that I grew up with, and that molded my mind into what it is today. Everytime I watch these movies, I remember what I gained from them and what they contributed to my automotive ideals and tastes.
The Fast and the Furious: Tokyo Drift: This is not a good movie. It is a bad movie as far as rating are concerned. It should be required reading as it was one of the first to feature drifting, and with professional drifters! The stunts are fun to watch, but what I took from it was the depth of Japanese cars and the bonkers Japanese society. Many of the cars featured are JDM only. I remember watching this movie (already well versed for my age) and wanting to do more research into the blue S15. The scenes from the car shows, street scenes, even the high school, made me want to know more about Japan - to the point where I'm going there next year!

Senna: A movie about the greatest racing car driver that has ever lived, and one of the best humans ever to walk the earth. The duality of Ayrton Senna is fascinating. He was one of the fiercest driver's to ever take the wheel, but was also a devout Christian who donated millions to philanthropic causes. His attention to detail, and his compassion towards those around him inspires me to this day.
Casino Royale: I remember watching this during a rough patch in college. I went with a couple buddies as they knew I was depressed and needed cheering up. I watched Daniel Craig become the second best James Bond ever (Connery FTW). I watched him struggle (obviously) harder than me and make mistakes. I watched him drive the Aston Martin DB6 and later the DBS. The fact he was human, made mistakes, and yet could still overcome as a gentleman was something fascinated with achieving myself. I really did want to become Bond and drive the DBS. I still do... I can't afford a DBS... but I could afford the E60 M5 (for now).
Gone in 60 Seconds: This movie contains one of the worse CGI car scenes in history. Have you ever watched the Shelby traffic jump in slow mo? All the characters look like the STONKS meme! The stunt was ridiculous - that was until F&F took the razzie for most not-at-all-possible stunts in the movies. I can get over this scene as it was 'state of the art' at the time, and who cares when you have an epic line up of cars. Watching the characters steal each car at a time, each ladies name called out, it made me want them all! I want the Diablo, the H1, the XJ220, the 'Cuda! If no other movie made me want to collect cars - this one did.
I have enough room for two more. I'm still tossing around the potential last two... any ideas?!
If you're curious I spent about $180 for the four frames and four movie posters though eBay.