This Automotive Habit Of Mine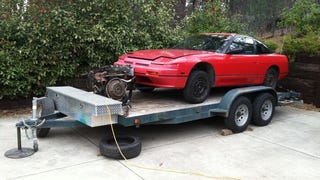 This Automotive Habit Of Mine
My favorite car is my next car. What will today bring to my automotive habit? There could be financial ruin, excellent deals, skinned knuckles, and epic mechanical resurrections. We can't save them all, but the cars that land in our driveway deserve a good ol' college try.
There are few types of cars that provoke an emotional response quite like the muscle car. They are the automotive icons of a tumultuous era. Our fathers raised us to appreciate them as some type of lost piece of their young adulthood. We've heard the memories about how they 'had the only one in town' or that it was the car they picked up mom for the 'first date'. These are of course cliché stories we have all heard, but none the less they are true for many.

I grew up with few mythical stories about muscle cars. I lacked the stories about blacktop heroes racing through the night, and the all-nighters getting the car ready for the weekend drags. I yearned after my friends who were told tall tales by their fathers of the '68 Firebird 400 they'll never find again, or the '67 Satellite 440ci that could break traction into fourth gear.
These stories were a major inspiration for me as a kid. But these would never be my stories. I could never pass down these stories. They belonged to someone else's dad. They were stories that would belong to my friends one day.
I had to use the inspiration I was given and make my own stories.

Enter the Camaro, again.
I've previously written about how my teenage years were spent pining after an Import, not a muscle car. I wanted to be a trendy tuner boy with the lowered Integra and fit in with those 'popular' kids. Fate brought me to a Camaro. It also brought me to sell my first Camaro as a necessary evil to advance myself in my current career. An unintended consequence of climbing the social ladder. I never thought fate would bring me to another Camaro.
I had just sold my lifted XJ Cherokee when I began looking for the next project. I love the hunt. I had a long list of potential vehicles. The goal was to find something that would appreciate or at minimum hold its value. The list was a scattering of vehicles from across the globe.
Mercedes 190E Cosworth, Mazda RX-7 FD, Nissan 300zx TT, and even a Toyota Supra NA (the turbo being out of reach) were some of the possibilities I looked into buying. I began speaking to my good friend and mentor Larry about my list and his thoughts. He recommended a Mercedes 500E. I found these to be already too expensive. The more I searched the more I found that anything that will appreciate will already cost some serious money.

We continued to toss around ideas for me until towards the conclusion of one of our phone calls Larry said, "Maybe you should buy my Camaro." I had been down this road before; looking for an import and buying a muscle car. Déjà vu, indeed. This Camaro was no cheap "project". This was a seriously expensive car that needed a few (or quite a few as it turned out) details sorted before it was done. This was about an 80% complete car. Most notably the interior was untouched and the front suspension needed an overhaul.
I had some history with this particular Camaro. I helped work on it, or more specifically, dropping the gas tank and installing a new one when he first bought it. Larry considered buying my first Camaro but passed on it as it need too much work. He found his Camaro in a field in Northern California. It was a literal 'Grandma' car. It was left in a field by the family and was unregistered since 1992. It was an original California car, wearing the original blue and yellow plates. It was gold, with a tan interior, and had a 307ci engine and TH350 transmission. He bought this car for approximately $1,500 with the intention of building one mean street car. This had been my intention with mine, but life was pulling me elsewhere.

Sadly, no picture exist of the gold version of the Camaro. Maybe that's for the best. It wasn't anything to look at, after all. Larry assured me that the paint job he had commissioned was near flawless. He told me that as his body shop owner friend had painted it for a deal, and it took several years. He added a paying customer would expect to pay around seventeen large. He paid much less due to his friends and family discount. It pays to know the right people...
We agreed on the time and place to meet. The price was 'take it or leave it'. The price being almost double what I wanted to spend. A chance to buy a car like this might never come up again. I had to at least check it out. I sold the idea to my wife and we were off! We arrived midday after several hours of driving. What lay before my eyes was the nearly completed Camaro I always wanted. I had seen an idea in my head of a Camaro like this years before.
The parts used to create this street machine are impressive. I pointed to the engine and learned 'Chevy didn't make that'. The engine was made by Bill Mitchell Hardcore. This one being the aluminum lite small block 427ci but with some modifications to bring the 'cubes down to 412ci to make it more reliable by Rebello Racing. A mere 355 pounds of engine with 550 horsepower. The Super T-10 transmission was explained to me as being previously used in Nascar. Out back was the best (arguably) rear end possible. The venerable Ford 9 inch, this one with a Torsen LSD, Currie Axles, Trussed, 4.10 gears, and nicely powder coated silver. To top it all off, all the body work was already done!

I agreed to buy it, but before the deal was done there was one last step. Larry had to ask permission to sell it from his 11 year old son. It was his son's favorite car his dad owned, regardless of the fact he had never been for a drive in it due to its uncompleted status. The son relented and let me take it away.
We slapped on the wheels, and tried to start it up. It ended up having a flat battery, and the 870 cfm Holley (no choke) was being a fickle bitch. The plan was never to drive it home anyways. I trusted my friend that it indeed would run.

I was now in possession of my second, second generation Camaro, with a much lighter wallet.