This Automotive Habit Of Mine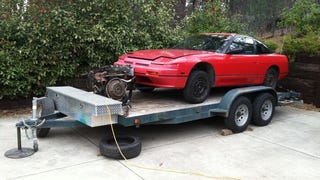 This Automotive Habit Of Mine
My favorite car is my next car. What will today bring to my automotive habit? There could be financial ruin, excellent deals, skinned knuckles, and epic mechanical resurrections. We can't save them all, but the cars that land in our driveway deserve a good ol' college try.
Fun fact: I have never purchased a new car for myself but, I have purchased a new tractor. I am absolutely smitten by this orange-you-glad-I-didn't-say-Deere. The tractor has opened up my world to my forgotten 6 year old self and I'm enjoying every minute of it... but what have I done with it?! Many things inside, mostly orange, with one soon to be purchase at the bottom!
This is my brand spankin' new Kubota B2650. It is equipped with the loader, mid mount mower, and BH77 backhoe. This is not a very large tractor, it's just big enough to not look like a child's toy any longer. The whole package with all implements weighing around ~25oo pounds.
The Kubota B2650 is a 'compact' tractor, meaning it is just a bit smaller than the standard sized L-series tractor. What does the name mean? It's easy; 26 being the amount of horsepower, and 50 denoting this being B50 series (the B2601 being a little smaller). I decided this tractor would be the perfect size for me... plus the L-Series I wanted would have been nearly fifteen-thousand dollars more!
The 26 horsepower tractor is a popular one. It meets tier-four compliance with one omission - it does not have a diesel particulate filter (DPF). I was originally looking into the same tractor but the 33 horse varient. After reading many articles and listening to my local dealer, they steered me away from the DPF equipped model. I read and heard about failures related to it and it is another device that needs replacing every 400 hours or so.
Why Did I Need A Tractor?
I recently came into possession of around 5 acres of land. Pasture that needs to be mowed, brush that needs to be moved, trees that need to be felled, dirt to be scooped, and trenches to be dug. Not only that but, I have a pipe dream of trying to be a farmer... on a very small scale - a hobby and least ruinous to the long term financial plan as possible.
Realistically, I'll probably end up using this thing for a lot more than I can imagine.
Need to remove an engine? It can do that by hooking up some chains to the loader.
Need something forked out of the truck? I got pallet forks to swap out with the bucket (which are very easy to change thanks to the skid-steer style quick attach).
Want to go dig holes and make the front yard look like a war zone? This is not a fantasy any longer.
I had always wanted a tractor but after looking at used prices... well they too are ridiculous. With all the implements, tax, and insurance (?!!!) the grand total was around $35,000. Not a hard pill to swallow but I do plan to keep this orange wonder until it can run no more. A lifetime of memories and work are ahead of me.
Driving The Tractor
Driving the tractor is a little different than an automobile or pickup truck. The Kubota is equipped with a 3-range Hydrostat transmission. You have a choice of three gears (L, M, & H) and forward and reverse come via the treadle pedal.
Basically the Treadle Pedal is a floor mounted pedal where you push one end to go forward and the back of the pedal to go back. It takes a little getting used to... no selecting reverse, just move your foot to the rear of the pedal and push down!

The only catch of all this being the engine speed does not increase with more pedal push. You increase the engine speed via a hand throttle. You select your gear, give it some rabbit, and push the pedal down for as much speed as you need for the given application.
Using the Loader
Driving it around came quick. It has pedals, a wheel, and the hand throttle. What doesn't come easy is the loader... I quickly found out that even in L with some speed you can actually stall a tractor into a heavy pile. Now that I know the limitation, I don't believe I'll be doing that again.
Operating the bucket all comes via the stick near the right side of the seat. Up is down, down is up, left curls the bucket, and right opens it. Naturally, the hydraulics are quality and you can do two operations at once by hitting the corners. Want to raise the bucket and open it at the same time, push to the upper right corner.
I will say that the pallet forks move fast. Much faster than the bucket. The first time I pulled a pallet from a truck... I nearly lost it. The curl function with the forks is much more pronounced and I'm guessing it is because the forks are so much longer. A little movement at the pin is a lot of movement at the end of the fork.
Using the Backhoe
Quickly after buying the tractor I found my first project to be installing a solar array. I needed to dig a 150' trench for conduit (1-1/4" schedule 40 containing 4 lines of #4 wire to be specific) and with my new backhoe, I did it!
At first I found operating the backhoe to be a bit difficult. You've got two sticks to do eight operation: boom position (in or out, swing left or right), dipper position (in or out), and bucket position (curl or open). I was trying to dig too deep too fast at first to the point where I was pulling one of the outriggers off the ground. After around 20 minutes I got the hang of it. Two hours later I was making quick progress. At the completion (6 or so hours) it began to feel like second nature.
Oh The Places You'll Go (and Things You Can Do)!
I got a call from a co-worker who had an issue. He is building a house and the culvert under the driveway needed replacing. Owning a tractor is similar to owning a truck - once people know you have one, you're everyone's best friend. In this case, I was happy to test out the tractor on someone else's land. There was one problem... I had to get it there!
I have owned a couple flatbed trailers with a friend and we most recently began fixing up a 10 thousand pound, 8-lug, 18 footer. It was fortunately ready (enough) for its first job. We hadn't replaced all the lights or painted it yet, that was all soon to come. It was a bit rusty, a couple bulbs were blown, one outrigger is bent, but it tracks very straight, and the deck is present. I know this trailer is a little bit of overkill as the tractor weighs a mere ~2500lbs. Regardless it did the job!

The culvert was already partially dug up. My (limited) tractor skills were required as it was believed the trench was deep enough... but once the pipe was put in, it was determined to be 12" too shallow.
Again, the backhoe worked perfect. With my prior experience I was able to gather larger rocks, and prevent slides into the trench as we progressed. I can imagine I saved my buddy several hundred dollars by doing this for free beer.

We Don't Do Stock - Modify All Wheeled Things
In the spirit of a true auto enthusiast, I couldn't NOT buy some toys for it. Modifying things and adding parts is a passion. The tractor would fall victim to my habit just like every other vehicle I've owned (almost 26 now... more on that below).
I was slumming Instragram one night when I found something to prevent me from buying a UTV - the BigToolRack. This thing is a gem. It is essentially a UTV bed that hooks up to the three point hitch of a tractor. It has slots for hand tools, string trimmer, chain saw, and several boxes - including a tailgate.
The assembly went very easy. The quality was high - the metal is thick, power coating is consistent, and all bolt holes and slots lined up perfectly. It would have been easier to have a second hand putting it together but I managed all by my lonesome in about two hours.
I couldn't force myself to buy the stock black and yellow version either. I had to go back to my Kubota dealer and provide them with the part number for the orange and black branded version. They hadn't ever heard of this product before either! It cost around $100 more for the matching paint instead of the yellow version easily found on Amazon.

Conclusions
Everyday is a good day when you can fire up a tractor. You know when people say four-wheeling is fun even though you're going so slow? It's the same type of feeling with a tractor. Owing a tractor is a childhood dream, even if it isn't some monster piece of equipment - I mean who can afford that?! I wanted a tractor for a small piece of land, to be a work force multiplier, and all while being reliable and affordable.

I just hope my next purchase will be just as reliable... the world's most completely opposite garage photo is about to be taken... tomorrow.
Stop it! I know what you're saying! I own two Toyota's and two diesels. I need at least one thing that is potentially financially devastating and overall requires a doctorate to work on!

It will be fine... trust me.