This Automotive Habit Of Mine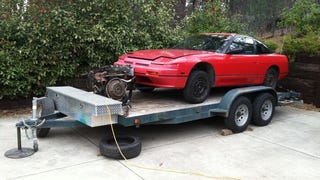 This Automotive Habit Of Mine
My favorite car is my next car. What will today bring to my automotive habit? There could be financial ruin, excellent deals, skinned knuckles, and epic mechanical resurrections. We can't save them all, but the cars that land in our driveway deserve a good ol' college try.
Thirty-five years after 'Back to the Future', the black truck offerings from Toyota are more computer than pickup. Four cameras, radar cruise, rear e-locker, terrain control, leather, and a JBL audio system. I'm in love with my new 2020 Toyota Tacoma TRD Off-Road. How did I get to a Tacoma though? Wasn't I looking at diesels and a Raptor?!

To boil down my search for a new truck it came down to price. A new well equipped diesel, or a base Raptor will set you back around $60,000. Thats around twenty-thousand dollars more than I paid for this indestructible Japanese legend.
I decided it was best to forego a search for a half-ton or larger truck as I have no plans to launch by 1996 Dodge Ram 2500 Cummins 4x4. The old twelve valve can be used to tow, haul, and generally get beat up. That allows the Tacoma a much easier life, as it does not need to be the primary rough materials hauler.
If you start reading about the Tacoma you'll find many excited about the first year (2020) for a power driver's seat. I've never seen so much excitement about a device I generally thought was common or an easy upgrade on every single new car currently for sale. I was wrong.

Going through the trim packages is a little overwhelming. There happens to be six of them! I decided on the TRD Off-Road because when you add the Premium Package (+$4000) it turns the truck into an almost-Pro level trim, with all the Pro parts being bolt ons. I don't have the fancy TRD skid plate, Fox shocks, "Pro" seats, or the exhaust... but I did save around $8,000.
I didn't need all those bolt on parts for an extra eight grand. Isn't part of our hobby to tinker, modify, and upgrade? I can add any of those parts later. What can't be added is the MTS (Multi-Terrain Select) or the four cameras showing a 360 degree view around you. The MTS is an Off-Road and Pro only feature, and the cameras being available with the Premium Package.

I did drive the TRD Off-Road WITHOUT the Premium Package. It is just as capable, and will suit the vast majority of owners for less money. I happen to be a unique snowflake and wanted the leather, sound system, cameras, Homelink, dual zone climate, moonroof, and heated seats. I mainly wanted it for the leather, as I've always had issues keeping cloth clean. Leather is a lot easier to live with in my opinion.
I had a buddy show up today to check out the truck, who commented I need a name for it. I'm thinking "Marty" after the main character Marty McFly from the epic 1985 classic 'Back to the Future'. He desired, and (spoiler) ultimately owns a black 1985 Toyota Truck extended cab 4x4 with a roll bar and KC Highlights by the end of the movie. The BTTF truck has proved so much of a Toyota icon that they actually created a one-off modern version for 2016.

So there you go, my twenty-sixth vehicle, a black on black 2020 Toyota Tacoma TRD Off-Road Premium Package. No new diesel. No Raptor. I ended up with another Toyota, and I couldn't be happier. Both of the other candidates could have been more useful, or unique, but remember family - the best car for you is the one you can AFFORD.
...Did I mention it has radar guided cruise control? WTF...