This Automotive Habit Of Mine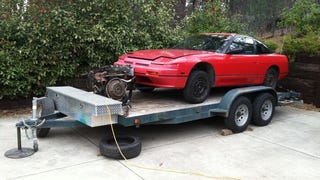 This Automotive Habit Of Mine
My favorite car is my next car. What will today bring to my automotive habit? There could be financial ruin, excellent deals, skinned knuckles, and epic mechanical resurrections. We can't save them all, but the cars that land in our driveway deserve a good ol' college try.
Drove this beautiful beast again since having numerous fuel related items replaced. She's got POWRRRRR AGAIN!!! It however consumes diesel to a point not dissimilar to a young soldier consuming drinks on leave.
The lift pump ended up being the biggest culprit. Apparently a 12-valve will just about run with a bad lift pump. This truck couldn't get out of its own way before the new left pump. Now, it's about as good as it was when new. So basically it still isn't quick at all...
Mind you this was the original lift pump from 1996. It was time. It lived an abused life. Every once and a while it was let out of its cage to haul something.
Glad to have the truck back and able to haul now. I've got a couple projects that require about a yard or more of wood chips, dirt, and rock.
Of course that will mean ruining this... LOOK AT THAT BED RAIL! So straight!!! The aux fuel tank protected it for years... no more!