Automotive Philosophy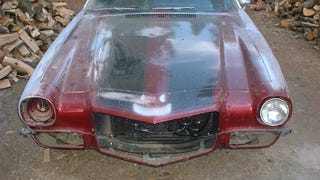 Automotive Philosophy
Enter into the Zen garden of my opinions. Nothing here is rooted in numbers or common sentiment. The arguments made are supported by witchcraft, stereotypes, and sayings such as 'that's the way we've always done it'. My automotive mental illness might be contagious, you've been warned.
Tavarish, B is for Build, Doug, and Hoovie all rack up some impressive views with their project cars. Being they flip, buy, and sell so frequently, who is ending up with their automotive fodder?! Might they be going to collectors? Do you want one? Now you've got an opportunity.
This 2000 Honda S2000 is being billed as previously owned by Chris from the YouTube channel 'B is for Build'. Is is a CLEAN title with a mere 98,000 miles.
I reached out to Chris from 'B is for Build' to confirm this ad as being genuine but after two weeks - I haven't heard back. I'm guessing it is genuine because the pedigree certainly adds more nerd cred than any monetary value.
Now I did a little digging myself and found what appears to be this car in a video on the B is for Build channel. The license plates can't be seen but everything else appears to show this is the same car that had its wheels stolen while parked on the street in Oregon.
I bet that these won't be the next hot item in another 10 or 20 years for collector cars but it makes you wonder... Celebrity cars certainly do retain more value than their ordinary owner counterparts. Race cars with a famous or winning pedigree can be astronomically expensive. Could a YouTube build car be something rolling across the auction block one day for six digits?!
Regardless of the predictions my crystal ball shows me this one isn't even unreasonable considering it's 'celebrity' ownership. It can be yours for:
$13,900
Not bad at all. I'd offer $10k and joke that it's YouTube project car status deducts 10%!
Click links on pictures to view the Craigslist link!