Ridiculous Diesels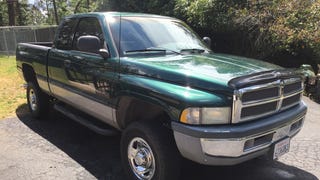 Ridiculous Diesels
The latest installment of the most RIDICULOUS diesel powered vehicles for sale online! Why are they so overpriced? What do you get for the money? Is it worth it? Come join the discussion!
Are your eyes deceiving you? Is this a photoshopped image of a big truck made tiny? I think the seller isn't kidding. A regular (standard) cab short bed... I thought these were just a myth. Well I'm guessing this one was a myth until someone decided to build it.
There's a reason why you can't typically (or ever?) get a 3/4 ton or bigger truck with a regular cab, short bed configuration. My guess, is that this probably doesn't tow that well considering the wheelbase. At least it won't tow very well if you want to tow anything bigger than two jet skis.
To make matters more interesting, it's a King Ranch? Not really. Maybe the seats are but I don't see many other KR parts. It's an almost great execution of something that could trick many self proclaimed auto gurus.
To each, his own... I suppose. I'd rather have the long bed.
https://sacramento.craigslist.org/cto/d/2013-ford-f350-king-ranch/6578420249.html